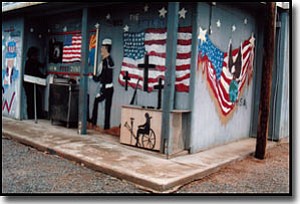 Originally Published: May 22, 2006 6:42 p.m.
KINGMAN – Colorful paints and large walls have assisted Golden Valley resident and artist Carol Childress in sharing her feelings about the freedom granted to American citizens with the rest of Golden Valley.
"When America went to war in the Gulf, I began to think about all the lives intertwined fighting for freedom. Husbands and wives, sons and daughters, brothers and sisters from all across America giving up everything for liberty," Childress said. "I have decided to use my talents as an artist to portray the courage and the cost paid in blood by men and women represented by the five branches of the military."
Childress said she began to paint murals around Golden Valley when her son first shipped off to the Gulf War. She did the mural at the Veterans of Foreign War building to thank those in the military for the work they did and are doing now to keep America's freedom strong, she said.
While Childress said many different things motivate her art and her murals, she is most influenced by the military and the meaning of America's freedom. A mural done on the wall of the gym at Eagle Academy was painted as the image of the American flag with two eagles on it. Childress said this mural represented "strength, courage and freedom so our children can live in a freedom and feel safe in our country."
The murals that she has done have normally, she said, been ideas that have just come to her. After she has an idea in mind, she simply finds someone in town with a wall they will let her paint. She has really only been commissioned to paint one wall and that was for the Golden Valley Gift Shop.
Along with her son, Keith, Childress painted the Arizona deserts with a few items available at the gift shop. She said the painting would help those stopping through to remember their trip through Golden Valley.
As an ongoing piece of work, Childress has been working on the front wall a shed on her property for a while now. She said the depiction of "Jesus with open arms holding a gold ribbon to heaven," while surrounded by toys and childlike angels, "is in loving memory of all the children who have past away here in Golden Valley.
"I have not yet finished this mural for this one will take time because it is my way of coping with and mourning the losses of ones so young," Childress said. Childress said she still has many angels to add to represent children she knew that have been taken away and feels that the work will most likely continue to be unfinished, leaving a window open to continue in the future.
A fire that consumed her home has slowed down the progress of her painting, she said. Since she has paid for most of the work she does, the fire consuming her supplies has been a major setback. However, she and her husband have been slowly, but surely cleaning up the yard and she hopes to get back to her art soon. She enjoys sharing her talent to help other organizations raise money.
Childress has lived in Golden Valley for 16 years and has raised 13 children. Her goal is to continue painting and to be able to find a wall to paint her next mural. She said she wants to work on a mural about the Marines and all they have done for the United States. She said if anyone has a wall they would let her use for this artwork, just let her know.
More like this story