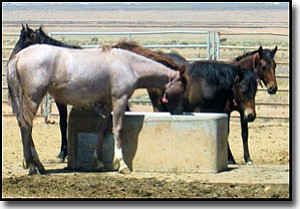 Originally Published: May 23, 2006 6 p.m.
KINGMAN – The Bureau of Land Management plans to build a new corral in Golden Valley before the end of the year to replace the one in use in north Kingman along Route 66.
The new facility will double the size of the existing one, capable of hosting 490 horses and burros. Each horse will have at least 400 square feet of living space as well as ample supplies of water, hay and shelters that can provide shade, said Jim Whittington, an officer with the BLM Kingman Field Office.
The corral in north Kingman has long served as a central distribution center for the nationwide wild horse and burro adoption program. Each year, hundreds of wild horses and burros living on public land in Western states are captured and shipped to Kingman. A small portion of them will be adopted by local residents, and the majority will keep traveling east to states such as Georgia and North Carolina, where some eager adopters are waiting for their arrival.
With the enlarged capacity, BLM will acquire the ability to handle more horses and burros in the distribution center and offer better services on the adoption and shipping of those wild animals, Whittington said.
Another reason for the relocation is that the existing corral was built on the state land, which was leased by BLM under a contract. By moving the facility to BLM land in Golden Valley, Whittington said his office would have more freedom in handling related issues.
BLM has run the wild horse and burro adoption program for years. It takes a lot of personnel and huge investment to keep the program going. Though BLM charges $125 to $160 adoption fee on each horse or burro, it's far from covering the operation cost. Most funding of the program comes from federal support.
But at the same time, this program is vital to keep public land in the west healthy, Whittington said.
Like the thinning of forest, removing over-populated wild animals in vast public land could help maintain a healthy wild population while preventing plants in the public land from being over-consumed, Whittington said.
A less expensive way to deal with the over-reproduction is to kill wild lives, but that is something BLM tries to avoid.
"They are beautiful animals, and to some extent, the symbol of the West. They arrived at this land with the first generation of settlers and Indian tribes … we don't want to kill them just because we have to protect public land," Whittington said.
The corral in Kingman is open to public adoption the third Saturday of each month. Anyone who proves they have ample facilities to host horses and burros can apply for adoption.
The next adoption date is July 15.
More like this story