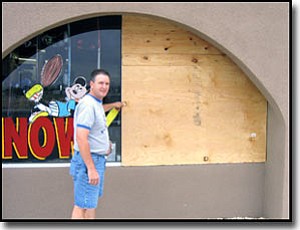 Originally Published: May 23, 2006 6 p.m.
KINGMAN – Thieves hit the R.A.W. Sports sporting goods store on 4086 Stockton Hill Road in back-to-back "smash-and-grab" incidents Thursday and Friday nights.
Burglars entered the store at about the same time each night, between midnight and 1 a.m., smashing the same window located at the northeast corner of the shop, according to store owner Mike Cobb.
Cobb said on Monday that he was still inventorying for the amount lost in stolen goods, guessing it to be around $2,000.
"They probably took not quite a thousand the first night, and probably a little over the next," Cobb said.
Cobb said the thieves stole mostly cheaper paint ball guns on the first night and a few skateboard decks, then came back to steal more expensive guns and additional merchandise stuffed into backpacks.
"It's almost like somebody told them that they took cheap guns, so they came back to steal more expensive ones," he said.
Thieves smashed the window the first night with a rock, the second night possibly with a pipe or hand-held object, he guessed.
Kingman Police had not yet released a report on Monday and the reporting officer was off until Wednesday.
Cobb said that the thieves acted fast, evident by the fact that Kingman Police arrived at the scene within five minutes on each night when notified by the store security system. Cobb said he was out of town at the time and had to call in an employee to watch the store after both incidents and replace the window.
Cobb said he would offer an award of a couple hundred dollars to anybody who could identify the thieves or lead to the recovery of the merchandise.
"Insurance only pays for part of this. Most of it is just a loss, unfortunately," he said.