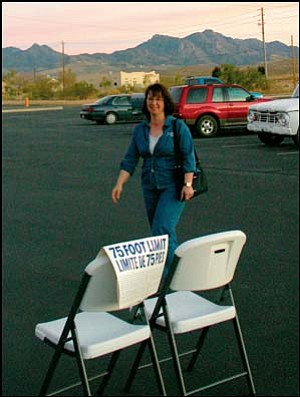 Originally Published: November 8, 2006 8 p.m.
KINGMAN - The votes have been tallied, with winners - and losers - announced Tuesday evening. Mohave County had a strong showing at the polls, with 37.82 percent of registered voters casting votes.
In a close race for District 3 State Representative, Republican incumbents Trish Groe (16,506 votes; 37.29 percent) and Nancy McLain (16,097 votes; 36.37 percent) beat out Democrat Luis Lopez (11,570 votes; 26.14 percent) to retain their seats in the House.
With 20,048 votes or 62.29 percent, incumbent Republican Ron Gould easily beat out Democratic challenger Noah Harris (12,092 votes; 37.57 percent) to win back his seat in the state Senate.
Republican Rick Lambert garnered 4,163 votes (62.81 percent) to make him the new Kingman Justice of the Peace over Democrat opponent Randolph Wolfson (2,455 votes; 37.04 percent).
Five Superior Court judges were up for re-election this year.
All were unopposed Tuesday and garnered the right to keep their seats.
Division 1 Judge Charles Gurtler, Division 2 Judge Randolph Bartlett, Division 3 Judge Steven Conn, Division 4 James Chavez and Division 6 Judge Richard Weiss, all Republicans, were all re-elected to the bench.
Clerk of the Superior Court Virlynn Tinnell, Cerbat Justice of the Peace John Taylor and Kingman Constable Pam Bibich also entered the General Election unopposed and were also re-elected.
Republican Jean Bishop won the Cerbat Constable fight during the primary election and entered Election Day unopposed. She will take office in January.
Kingman native Joe Hart also entered the General Election unopposed after winning the state mine inspector primary. He too will take office officially near the beginning of 2007.
In the statewide elections, Mohave County residents differed only slightly from the overall outcomes.
In the race for United States senator, Mohave County picked Republican Jon Kyl to continue leading with 19,561 votes (58.67 percent). Mohave County also chose to re-elect Republican Trent Franks as the U.S. Representative for Dist. 2.
Similarly favored as the election went, Mohave County chose Democrat Janet Napolitano to serve another term as Arizona's governor with 18,399 votes (54.93 percent). Republican Len Munsil was not far behind with 14,244 votes (42.52 percent).
Republican Jan Brewer was also chosen to continue serving as Arizona's Secretary of State by Mohave County voters with 63.2 percent of the votes (20,366 votes).
Mohave County continued to vote Republican, as they chose Bill Montgomery with 16,647 votes (51.51 percent). Statewide, Montgomery lost the seat to Democratic incumbent, Terry Goddard.
Republican Dean Martin was chosen by Mohave County voters to become the new Arizona State treasurer with 20,600 votes (65.03 percent).
With wishes to the retain current superintendent of public instruction, Tom Horne received 18,842 of Mohave County's votes (59.67 percent), giving him a victory in this county.