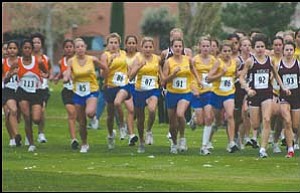 Originally Published: November 9, 2006 8 p.m.
KINGMAN - A break from the cooling temperatures in northern Arizona turned out to be an unwanted part of the Kingman High cross country teams' experience at the 5A-II State Championships on Saturday at the Cave Creek Golf Course in Phoenix.
But a warm and humid day wasn't keeping KHS freshman Bailey Lawson from earning a medalist position, and a suspect ankle wasn't enough to stop KHS senior Matt Snay from finishing his last high school cross country race.
Lawson's 25th place time led the Lady Bulldogs to an eighth place finish, while Snay came in 35th to help the Bulldog boys team finish 18th.
"We've been running in 70-degree weather for a while now, and for it to heat up that much was difficult," KHS coach Anne Bathauer said of the 15-degree difference. "The heat got to us, and the inexperience of running such a competitive race. But we're going to move on from this. This is a hard working group of kids willing to practice, so there are great things to look forward to in the coming years."
Snay, who had been walking with a splint until last Wednesday due to a high ankle sprain, only attempted a light jog two days before the race, but finished the 3-mile course in 18 minutes, 14.80 seconds. Lawson's time of 22:06.60 was the third best time among all freshman girls in 5A-II.
"Bailey ran a great race from start to finish," Bathauer said. "She got a good jump and took a fast lead. Matt started out very strong the first mile and a half, but you could see him hobbling at the end. It was still an excellent performance for him, and no doubt a courageous race."
Wes Anderson (19:23.65) and Orry Berlemann (19:30.40) finished 88th and 92nd for the Kingman boys' second and third times. Jeff Manzano was 110th at 19:58.85 and Garett Theel was 117th at 20:12.75 to complete the team's score.
The Bulldogs other two runners were Lionel Bicenti (20:18.35) and Scott Beatty (21:02.15).
"Wes and Orry were right by each other the entire race, and as these young guys train in the summer they're going to be great," Bathauer said. "Orry runs the 400 (-meter dash) and is jumper in track, so he's worked hard to become a better runner and reinvent himself as an athlete."
Kingman's girls just missed their goal of placing five runners in the top 50. Tiffany Reinoso finished 32nd at 22:31.40, but had to be taken to the hospital afterwards for dehydration. Jessica Reinoso was 57th at 23:32.90 in her final race, Kirsti Fuller was 61st at 23:43.10, and Lauren Adams was 66th at 23:57.25. Alyshia Solano (24:23.60) and Stephanie Reinoso (25:41.20) also competed in their first state meet.
"I had higher expectations for the girls, but to finish in top eight and top 66 is a great season," Bathauer said. "Jessica ran a great race, and for the rest of these girls this was a great learning experience and something to build on."
Sandra Day O'Connor won the girls team championship, while Shadow Mountain took home the boys title.