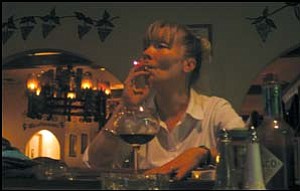 Originally Published: November 9, 2006 8 p.m.
KINGMAN - Arizona smokers who feel like they've just been hit in the gut with a bowling ball were actually feeling something quite different but with a similar sensation: an additional 82 cents per pack of cigarettes in taxes and the ban on smoking in bars and restaurants.
Voters passed Proposition 201 with 483,062 votes, or 54 percent favoring the regulations that will outlaw smoking in bars and restaurants.
This proposition comes with a two-cent additional tax per pack of cigarettes. Proposition 206, which would have allowed owners to choose if smoking would be permitted in their bars, failed by a margin of 16 percent. And Proposition 203, passing with a 6 percent margin, will hike the cigarette tax another 80 cents, money that will go toward children's education and health programs.
No longer is a smoke after a meal to be enjoyed in any restaurant in the state, and puffers will have to stand outside in between plays for Monday night football at bars in Kingman. But non-smokers, the majority even in the tobacco hub of the nation, Mohave County, can now avoid the smell, protect their own health effects and the chances of subjecting their children to second-hand smoke during the Friday family dinner at their favorite restaurant.
Smokers aren't the only one's expected to see some adverse effects come May when the smoking ban is implemented. Local business owners aren't out singing in the rain about the proposition passing, either.
Cappello's Italian Restaurant & Lounge on Club Avenue in Kingman will be one of the many establishments in town that will have to adjust to the change next year. But owner Rhonda Luxton said she's sure the state will see a slew of lawsuits before that date arrives, lawsuits that will hopefully lessen the strict proposition.
"There's going to be a lot of people saying no, including me. I'll be on the bandwagon," she said.
Luxton originally planned on turning her place into a private club, which would entail charging a dollar a year to customers to become members. That way, she said, they'd be able to continue business as usual. But the stricter proposition covered that loophole.
"If we'd set up the place for a private club I'd have charged $1 a year and sent the money to the lung association," she said. "I'm extremely mad. It's going to lose me a lot of business."
A local customer hanging out at the Sportsman Club at 317 E. Andy Devine Ave. downtown said the tax increase for education and smoking ban in bars will push him out of the establishments here and make it more likely for him to pick up cigarettes in Nevada, a move that would draw tax revenue away from the state of Arizona.
"I think they ought to take the tax off beer and cigarettes and put it on ice cream and candy. Make the kids pay for their own damn education," he said.
Sportsman manager and bartender Dora Simpson said, "We're not happy at all."
"I don't think it's right. I don't think it's fair. People have a choice whether or not to come in if they know it's a smoking establishment," she said.
"To throw all that tax on smokers and then not let them smoke, that's ridiculous," Simpson added.
Another customer, Ed Dockery, agreed, adding that it's a shame if you own an establishment to have somebody telling you, after having jumped through all the rings required of small business owners, that you can no longer allow people the freedom to smoke.
His friend suggested they leave the bar and start smoking something cheaper.
"We might as well smoke marijuana. We can get that cheaper than cigarettes," he said laughing.
Hotel Brunswick co-owner Jennifer Pfaff said she is not personally pleased with the proposition's success, but she understands why it passed.
"The people have spoken. That's why we vote," she said.
Jennifer's husband and hotel co-owner, Jason, said the business won't be terribly affected by the new laws, thankfully, because the hotel and restaurant are already smoke-free.
"The only spots it will affect is those 10 seats right there," he said, pointing to the chairs around the small bar not far from the hotel's front desk.
The fear that smoking bans will hurt business has been a fear following every successful passage of a ban in the past, but because a smoke-free bar or restaurant is more appealing to a non-smoker, the surge in non-smokers often offsets the loss of smokers.
According to a Harvard School of Public Health study last year, cancer-causing toxins in bars plummeted by 93 percent once cigarettes, cigars, and pipes were banished. But researchers sifting through state tax records for restaurants, bars and nightclubs from July to December of 2004 found the smoke-free hospitality has the opposite affect on business as most owners originally predicted.
Whether or not Arizona reacts differently than other states is only speculation for now, but given Mohave County's recent fame as the smoker's haven, future findings could tilt the scales.