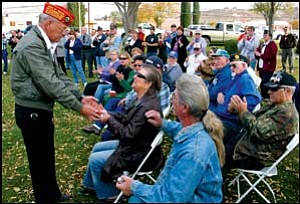 Originally Published: November 13, 2006 9:42 a.m.
KINGMAN - Saturday marked a national holiday of commemoration, of thanksgiving, and of honor to the brave Americans who fought for their country when the rest of the nation pursued the American dream back home.
This dream, of comfort, of peace, of community and neighbors, friends and family, is a product of the same ideal of freedom for which the first American soldiers fought during the birth of this nation.
Saturday was a day to remember those whose lives were taken or altered forever.
All over the nation, people bowed their head in remembrance. Some gathered at the cemetery, laying flowers and sticking flags next to the graves of parents, siblings and children.
Behind them flew an American flag, striped red, white and blue, the colors signifying purity and innocence, hardiness and valor, and vigilance, perseverance and justice. Beneath it hung a black flag with the picture of a soldier, honoring prisoners of war and those missing in action. They blew in the wind at half-staff as a sign of respect for principle figures of the United States government.
A few miles away at Locomotive Park, nearly 100 veterans and supporters gathered for the dedication of the new Kingman Memorial. Six stone pillars stand in honor of the U.S. Marine Corps, Merchant Marines, Coast Guard, Air Force, Army and Navy. The pillars surround a concrete slab to be filled over the next four months with more than 600 engraved bricks.
Kingman Mayor Les Byram thanked the city, contractors and soldiers who helped make the memorial possible
"You know, in this day and age … we need services like this to remind us of the sacrifices the veterans and their families have made to keep us free," he said.
"Let us never forget those heroes of the past."
The day before, a small group of Vietnam veterans gathered at the Veterans of Foreign Wars post on Wickieup Avenue to celebrate the 231st birthday of the Marine Corps.
Leaning over a glass-covered bar, under which are small plaques bearing the names of hundreds of soldiers, these local heroes joked, toasted and slapped each other's backs. It didn't matter whether they were best friends or complete strangers; the Marine motto Semper Fidelis, Latin for "always faithful," is as ingrained as it was during the final week of boot camp.
"If you're in it, we're all in it," said a former lance corporal who served during Vietnam.
Down the bar sat Jim, now wearing a white beard and matching hair, humbly brushing off accolades for his three Purple Hearts during Vietnam.
Being shot isn't a matter how good a Marine you are, said Joe, whose 41-man battalion was ambushed. Five survived.
As quickly as the conversation turns to memories not worth revisiting, of brothers lost, the lights turn bright again with jarhead jokes and more laughs.
"I was in the Marine Corps five seconds and I knew I didn't like it," Joe said laughing.
"I'll hear the same story for the next 40 years," said another in a hat carrying metals and patches. "It always gets better."
"I don't think there's a Marine here that didn't think, 'what the (expletive) did I do to myself?' But not a one would take it back," he said.
We often forget, or perhaps never hear, about the way of life for people in the service. When family and friends are an ocean away, a hot shower is five years down the road, and the mail service is no longer running, during times like these men and women reach out to what becomes their new family.
"There's one thing you'll never find in here. You'll never find fights or arguments. We're all veterans," said Vietnam veteran Gary Wilson before bidding farewell and happy birthday to his brothers.
Those who've survived, many of them, have met their maker after the wars ended, after long careers and seeing their families grow.
Former Army/Air Corps Staff Sgt. Manuel "Mike" Campa passed on Sept. 11 this year, leaving behind a loving wife, four children, six grandchildren and 15 great grandchildren.
"He didn't talk about it much," son Steve said. "But I didn't, either." Steve and his brother served in Vietnam, following in their father's footsteps.
Nearly a million soldiers have died in major wars. Approximately 1.5 million have been wounded. These numbers, based on government data, leave out hundreds of smaller conflicts in which American citizens sacrificed everything. In Iraq, 2,844 soldiers have lost their lives so far.