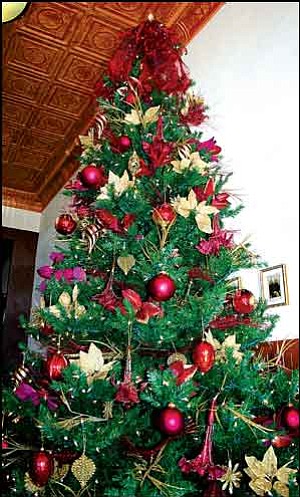 Originally Published: November 22, 2006 9:20 a.m.
KINGMAN - Some gifts just keep on giving. This Christmas season Sarah's House will be blessed three times by the same gift.
A Christmas tree decorated with red and gold ornaments by JBS Dolls, Gifts and Home Interiors in Kingman was donated to Sarah's House for their annual Dinner Dance Auction that was held Nov. 11.
Kingman resident Wade Simon and his girlfriend Anna Bufano purchased the tree for $2,500 at the auction. The couple then donated the tree to the Hotel Brunswick in downtown Kingman. In turn, Jason and Jennifer Pfaff, the owners of the hotel, plan to place envelopes on the tree to collect donations for Sarah's House.
Simon worked for a Saturn Dealership in Los Vegas. Several years ago he retired and moved to Kingman to escape from Las Vegas. His wife became ill and a year and a half ago she died from cancer.
Simon said the support he received from the community was outstanding, especially from Sarah's House. The organization and its workers were a great comfort to him and his two daughters during his wife's illness and then death. He wanted to do something to help the organization in return and decide to purchase something at the auction.
"I've had a love affair with Kingman ever since I've moved here. I just wanted to do something for the community," he said Monday.
Bufano was the one who encouraged him to purchase the tree. She told him to go for it and she would split the cost of it with him. Bufano's father died of cancer around the same time as Simon's wife. The two met and started dating about three months ago.
Jennifer Pfaff was at the auction. She said as soon as the tree went up on the auction block a fierce bidding contest started between Simon and another man. The bidding went back and forth for a while until Simon won the tree. Pfaff said when Simon went up to accept the tree, he turned around and announced that he was donating it to the Hotel Brunswick for the entire community to enjoy.
"It's too much tree for just one house," Simon said, adding that the entire community should be able to enjoy it. The Hotel Brunswick had done such wonderful things for downtown Kingman, he said, and it was also the place of Simon and Bufano's first date.
"We feel totally honored and blessed," Pfaff said. "This is such a community thing and what a great way to share it."
The Pfaffs have set the tree up in the front lobby of the hotel for all their guests to enjoy. They encourage everyone in Kingman to stop by and admire the tree, which will have white envelopes for guests to make donations to Sarah's House nestled in its branches. A drop box to collect the envelopes will be placed nearby.
Another reason Simon wanted to place the tree in a location sure to draw public attention was to educate the public about Sarah's House. The organization is not a shelter. Rather, it provides help to children and spouses who have suffered abuse or grief. Sarah's House can collect evidence, help law enforcement officials conduct interviews and counsel victims of crime or grief. For more information, contact Sarah's House at 757-8103.
Simon said he and Bufano plan to match any donations made at the Hotel Brunswick up to $20,000.
The Hotel Brunswick is located at 315 East Andy Devine Avenue in downtown Kingman.