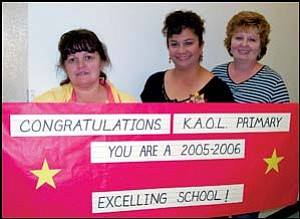 Originally Published: November 24, 2006 9:12 a.m.
KINGMAN - Kingman Academy of Learning Primary School has positioned itself to be a role model for others in the state after receiving an "excelling" mark in the Arizona LEARNS ratings for 2005-2006 fiscal year that were released last month.
"I would hope that could happen," Principal Trudi Bradley said.
"Of course, every year we must continue to work for the same thing. It's through our actions that we might be a role model and how we do it."
LEARNS stands for leading education through the accountability and results notification system.
It's the state's plan for meeting requirements of federal No Child Left Behind legislation. The state Department of Education issues ratings, known as profiles, annually for all schools.
There were 1,959 profiles released for 2005-2006 and 320 of them were given to "excelling" schools, the highest classification.
An excelling school is defined as one significantly above state performance goals and has a significant number of students exceeding standards on the Arizona Instrument to Measure Standards test, according to Amy Rezzonico, press secretary in the state DOE office.
KAOL Primary is a kindergarten through second-grade school with about 300 students. It also has a pre-school class with about 30 more children, said Susan Chan, district administrator.
Because children that young do not take the AIMS test, Terra Nova test results for second-graders are analyzed in arriving at a school profile.
"I was not surprised by the excelling rating," Chan said.
"Last year, it was rated highly performing and was within six points of an excelling rating."
KAOL Primary School has climbed in the profiles the past two years. It received a "performing" rating for 2003-2004 and stepped up to "highly performing" in 2004-2005.
Chan said the decision made for 2004-2005 was to focus on a specific curriculum area, which was language. District officials and teachers broke down the Terra Nova test of the preceding year, looked at competencies students did not do well in and put additional focus in that area for second-graders.
"When students get to second grade, they take their first state-mandated test," Chan said. "Second-grade teachers work hard to make sure all standards are taught and that students understand them.
"But prior to that, we had a kindergarten teacher and first-grade teacher that have worked just as hard with those students, so it's a total school effort to get those second-graders to be successful on the Terra Nova test."
Concentrating on basics permitted the school to reach the top last year.
"Whenever we emphasize something, we present it in a different way," Chan said. "That does not mean we give up something else.
"We try to add another 10-15 minutes per day in a problem area. We told our teachers at the start of the year that they already were working hard. We asked them to work a bit smarter and use their time better."
The school now is at the top profile level, meaning the only place to go is down. That is a concern and all that can be done is to ask teachers to continue doing the best job they can day in and day out and hope it pays off with another excelling rating for the next Terra Nova test, Chan said.
In order to maintain the high mark, language arts will again be the focus this fiscal year, Bradley said.
"We want to make sure our reading programs have extra volunteers," she said. "Parents are coming in every day and reading or listening to children read in order to ensure every child has the chance to read throughout the day."
Extra attention also is given to writing, another component within the language arts curriculum, Bradley said.
"We're proud of the fact we have taken every (Terra Nova) score and examined them to determine where we're doing well and what we need to work at," she said.
"Our math scores are doing very well, so we took apart reading and delved into the language arts area."