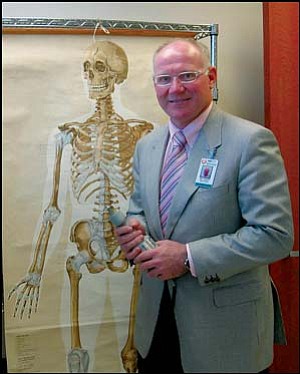 Originally Published: November 29, 2006 7 p.m.
KINGMAN - Dr. Emmett McEleney was a varsity football player at UCLA at age 19, considering business, teaching or politics as possible careers when an accident on an Idaho road put him on a new road in life.
"I was on a ski trip when the vehicle I was in hit black ice and crashed," he said. "I broke my back in two places.
"A doctor in Sun Valley fixed my back, and when I left the hospital, I said 'I'm going to be like you.'"
Asked the name of that orthopedic specialist, McEleney broke into a laugh and said, "Dr. Howard Johnson, but not related to the hotel chain."
McEleney, who was born in Los Angeles County, Calif., was a staff physician at Fairmont Medical Center, St. Mary's Hospital and Rochester Methodist Hospital in Minnesota, as well as an associate clinical consultant with Mayo Clinic in Rochester when a recruiter for Kingman Regional Medical Center contacted him.
In February, he traveled to Kingman to interview for a position as orthopedic surgeon. He met with Brian Turney, KRMC chief executive officer, and Steve White, executive directors of facilities/clinics.
He found KRMC to be a good-sized regional hospital. In addition, he recognized that the Del Webb Wellness & Rehabilitation Center on the campus not only was of great value to patients during recovery but also in helping employees maintain their lifestyle by staying in shape.
"The cardiovascular and radiology facilities also were impressive," McEleney said. "Everything I saw indicated they are on the cutting edge of technology and engaged in best practices."
McEleney is no stranger to Arizona. He said he owns property in Prescott and vacationed there from Minnesota.
His visit to KRMC convinced him he wanted to re-locate. He has opened an office in Suite 101 of the Medical Professional Center and may be contacted for appointments at 681-8681.
"Demographics are part of the reason I moved here," he said. "There's an acute need for orthopedic care here and it seemed like an opportunity to become part of something at ground level that can grow.
"The hospital here is a unique asset to the community, with visionary leadership that is both progressive and mission-oriented. That was another attraction for me."
McEleney is board certified by the American Board of Orthopedic Surgery.
In December 1984, he graduated magna cum laude with a bachelor's degree in Economics from UCLA. He obtained his M.D. degree in June 1989 from the UCLA School of Medicine and then did a one-year internship at Harbor-UCLA Medical Center in Torrance, Calif.
A residency followed from July 1990 to June 1995 in the department of orthopedic surgery at University of Connecticut Health Center.
In the summer of 1995, McEleney traveled to Austria for a fellowship at the University of Innisbrook.
"That was a wonderful experience," he said. "Americans don't know much about fixing femur fractures and usually put the patient's leg in traction for 12 weeks.
"In Austria, I saw X-rays of patients with metal rods going down their legs and they were soon able to return to work. Switzerland, Austria and Germany - all German-speaking countries - are far advanced in fracture care."
McEleney specializes in sports medicine, trauma, and hip and knee replacement surgery. He was asked why so many areas of specialization.
"Those are most of the cases that walk through my door," he said.
"Some doctors limit themselves to one area of specialization, but those are the most common things I see.
"One philosophy in treating patients is do unto others as you would like them to do onto you. My enlightened view of orthopedic health care is, how would I like to be treated?"
In his spare time, McEleney enjoys such varied activities as golf, photography, information technology, reading of novels, international travel, painting, sculpting, surfing and riding motorcycles.