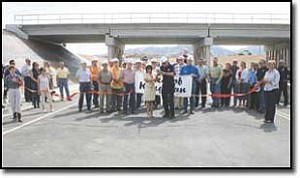 Originally Published: October 1, 2006 4 a.m.
KINGMAN ­ Motorists in Kingman watched as one set of barricades came down at Airway Avenue and another set went up at Louise Avenue Friday morning.
Members of Kingman City Council, the Chamber of Commerce and local developers celebrated the opening of the new Airway Avenue railroad underpass at 11 a.m. Friday.
Mayor Les Byram congratulated everyone involved in the Airway Avenue underpass project for their hard work.
"We are looking toward the future of Kingman," Byram said. He mourned the loss of the closing at Louise Avenue. Closing Louise will increase the amount of traffic in the area, he said.
"But that is the reality of Louise. It puts a priority on the construction and opening of the new interchanges," he said.
As Byram and former mayor Monica Gates were cutting the ribbon to officially open the underpass, orange and white construction barricades were going up on Andy Devine Avenue and Railroad Street.
Kingman Road Department crews and representatives from the railroad were closing off Louise Avenue on both sides of the tracks in preparation for installing permanent barricades.
Keith Stockwell, a grade crossing safety inspector from BNSF railway, was on hand to take pictures of the closing of Louise. The railroad is trying to close as many road level railroad crossings like Louise as possible to reduce the risk of accidents involving trains and cars.
The railroad had given the city 30 days to close the Louise Avenue crossing. The city learned last week that the railroad wanted the crossing closed the same day as the opening of the Airway Avenue underpass.
Stockwell said he did not know the particulars of the case and couldn't speak as to why BNSF wanted the Louise Avenue crossing closed so soon.
The underpass was a joint project between the city and the railroad and cost about $9 million. The railroad will be reimbursed for the cost of building the underpass. The money to help pay for the project will come from developers on the east side of the tracks.