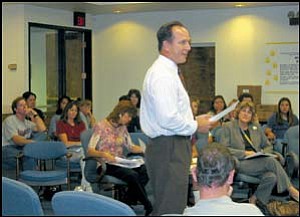 Originally Published: October 5, 2006 10:09 a.m.
KINGMAN - A number of parents with concerns turned out Tuesday night for the monthly meeting of the Kingman Unified School District Governing Board.
As the meeting began, Superintendent Maurice Flores asked board members to move up two items scheduled for discussion near the end of the agenda to the top of it, as parents were present. Those items concern textbook availability and student transportation from Wikieup.
Walt and Kim Roberts have home-schooled their children for many years. In order to give them a better-rounded education with access to athletics and electives, they placed their sons Joshua, a sophomore, and Daniel, a freshman, in Kingman High School at the start of this school year.
Walt Roberts read a letter to the board in which he first made reference to Kingman High School failing for the third straight year to make what federal officials call "Adequate Yearly Progress." He stated three things that make for a good education are excellent teachers, excellent textbooks and classroom resources.
He was "shocked" to learn early in the school year that high school students do not bring home textbooks in core subjects (English, math, science, social studies). Classroom sets are shared among students during school hours.
He said it would be a board decision on whether to change that procedure and then the responsibility of everyone from the superintendent on down to carry out whatever decision is made.
Kim Roberts visited the Miner on Friday to state her concerns. She said she had contacted officials in other unified districts, including Lake Havasu, Paradise Valley, Scottsdale and Gilbert, and been told in each case that high school students take home core subject textbooks.
The Miner made calls Tuesday before the board meeting to all of those districts. Representatives with Paradise Valley, Gilbert and Scottsdale acknowledged their high school students take home textbooks in core subjects.
Principal Katherine Cox of Lake Havasu City High School said she had just learned students in four classes were sharing books and she would immediately speak with those teachers to ensure students take home textbooks. Students in all other core classes already are bringing home textbooks.
"One of my sons had to go to study hall because he had no access to textbooks for his homework," Kim Roberts said to board members.
"After two weeks of school, I found that in four of six core classes there were no textbooks."
In order to be successful, a student needs enthusiastic, motivated teachers, an environment that encourages learning, and materials such as textbooks that are necessary to reinforce teaching, she said.
Roberts contacted Assistant Superintendent Betsy Parker, who told her she would look into the matter immediately. Her sons soon had a shared biology textbook to bring home. But no other children did, making her feel her sons had been singled out for special treatment.
"About 85 percent of students taking a biology test failed it," she said. "Did having a book enable my son to pass? I don't know as I feel home environment is an important factor, too."
Roberts also spoke of cases in which teachers were buying things such as overhead projectors, copying and even paint to touch up classrooms. The latter really got her "choked up," she said.
"We've started the process of looking at books in all classrooms," Flores said. "Kids move during the year and don't always return books or even destroy them. I know that sounds like an excuse, but it's a reality."
"We're meeting with all principals to look at textbooks and take inventory of them."
Roberts said she went on-line and looked at high stakes test scores for those districts in which core textbooks are sent home with students. Students in those districts did better on the tests overall than those at KHS and she speculated as to whether there is a correlation.
She added the KUSD budget this year includes $1.3 million for purchase of textbooks, but they do not seem readily available.
Principal Pat Mickelson of KHS spoke when Roberts finished.
"We're a school in transition, with a larger freshmen class than expected of almost 700 students," Mickelson said.
"Biology books have been shared for two years as our science teachers looked at other textbooks for adoption and this is an adoption year.
"We bought additional math books as we have more students now in lower level classes and we need to find money for more books."
She looks at textbooks as a resource that does not drive curriculum. The standards do that, Mickelson said.
Mickelson said she was unaware some teachers were paying for items out of their own pockets. Those teachers only have to come to her and an "override" would be quickly issued to cover cost of the items.
We want students to have all the resources they need and the ultimate goal is a textbook for every student to take home as well as classroom sets, she said.
"We must remember to take care of student education first," board President Mike Cobb said. "We can't think just about building new buildings."
Flores and Parker will report back to the board about textbook availability as soon as possible and what can be done to remedy the situation.
Parents of children riding a bus between Wikieup and KHS expressed concern over what they say is five hours of travel time back and forth per school day.
A Kingman Middle School student picked up and dropped off at Blake Ranch Road adds 45 minutes or more of time per trip. That means when KHS students get out at 2:50 p.m. and board buses, the one to Wikieup does not get them home until 5:30 p.m. and there have been cases where dropoff came about 6:15 p.m.
One man said afternoon dropoff in previous years was around 4:30 p.m. He contacted the district transportation office about it and was told riding a bus is a privilege for children, which showed insensitivity and a poor attitude on the part of transportation representatives, he said.
Administrators also will look into that matter. Flores said one possibility might be having the KMS student transfer to the Hackberry School District.