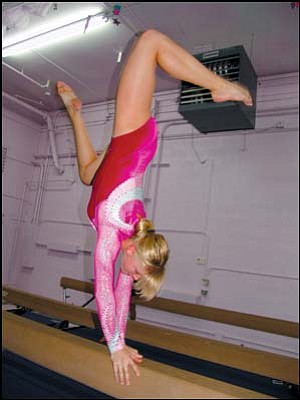 Originally Published: October 9, 2006 11:49 a.m.
KINGMAN - The All-Starz Academy of Gymnastics and Dance's Level 4, 5, and 7 teams took first place in the 13th annual Cartoon Classic Invitational on Sept. 30 in Kingman.
All-Starz' Mariah Moon won the all-around competition in Level 7 with a score of 36.6, placing first on balance beam (9.15) and on floor routine (9.5). Moon is in her 11th year with the team and has 14 state titles.
Also in Level 7, Tricia Hall was first on the vault with a 9.7, the highest score of the meet. Briana Mecom was first on bars (9.05). Heather Oder was the fourth member of Kingman's Level 7 team.
The Level 5 team's top scorers were Leigh Becker (35.3), Victoria Steighner (35.15), Sydney Tribbett (35.05) and Brooke McFarland (34.75).
Kirsten Lewis led the Level 4 team with 36.9 points in the all-around competition, followed by teammates Courtney Ogborn (35.85), Porsche Youssef (35.45), Alexa Russo (34.55) and Madeline Tribbett (33.8)
Three other teams from Tempe, Prescott and Hesperia, Calif., attended the meet.
The All-Starz next competition is the Fall Flip Invitational in Tempe on Oct. 7-8. The team has also begun raising funds for its annual Cartwheel-a-Thon on Oct 21. Contact Brandee Proffit at 757-1800 for more information.