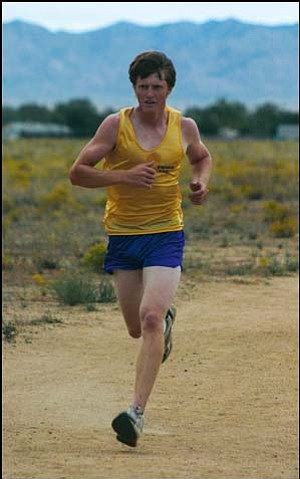 Originally Published: October 16, 2006 9 p.m.
KINGMAN - Aching, coughing and running high temperatures, the Kingman High cross country teams battled through a long list of sick and injured athletes to compete in a four-school meet at St. Mary's H.S. on Wednesday and an individual meet on Saturday in the Thunderbird Invitational.
Kingman freshman Tiffany Reinoso had a first and second place finish in her two races, winning Wednesday's meet with a time of 21 minutes, 16 seconds on the 2.9-mile course. But more remarkable was her second-place time of 18:21 in the 2.7-mile race on Saturday against 150 other freshman and sophomore runners.
"The Thunderbird Invitational is one of the state's oldest races, and it really shows you where you are in terms of age group and what you have in the future," Kingman coach Anne Bathauer said.
Kingman's first five freshman and sophomore finishers in the girls race were in the top 30, led by Reinoso and 10th-place finisher Lauren Adams (19:07). Kirsti Fuller (19:45), Stephanie Reinoso (19:57) and Alyshia Solano (19:58) were close behind.
"Alyshia is really picking it up as she goes through the season," Bathauer said. "She's a middle distance runner in track and we got her into cross country to get in better shape, and she's been improving so much to where she will consistently break into our top five or six now."
Sophomore Wes Anderson (16:13) had a top-25 finish of his own in the freshman-sophomore race for the boys. Bulldog runners Kevin Davies (17:44), Aaron Beatty (17:44) and David Schmucker (18:00) also posted strong times.
"Wes didn't run on Wednesday and was still fighting a cold, so for him to finish in the top 25 is really impressive," Bathauer said.
Matt Snay had the best finish of Kingman's juniors and seniors in their races, placing 10th at 14:54. Orry Berlemann (16:54), Jeff Manzano (17:26) and Garett Theel (17:31) took the 67th, 68th, and 69th places.
"Jeff still has an issue with his ankle and Garett was coming back from the flu, but Matt was right with the top group from start to finish," Bathauer said. "He needs some speed work, but he'll be a threat for the 5A-II title, and the region race should be a real fight with him and Boulder Creek's top runner."
For the girls, senior Jessica Reinoso (20:10) was the top finisher in 36th place, followed by Marie Boone (20:54) in 50th place. Jessica was also recovering from the flu last week.
In Wednesday's meet with St. Mary's and Peoria at Valle Vista, Snay posted the top time in the boys race at 16:35 to help the boys finish in third place as a team despite missing Anderson, Manzano and Theel.
The Kingman girls team won with 21 points despite its top five runners running off the course for a portion of the race. Bailey Lawson (21:30) came in second place, with Adams, Stephanie Reinoso, Solano and Fuller all in the top 10 and within a minute of her time.
Kingman's next meet it is the Northwest Region Championship at 11 a.m. on Oct. 25 at Valle Vista Golf Club.