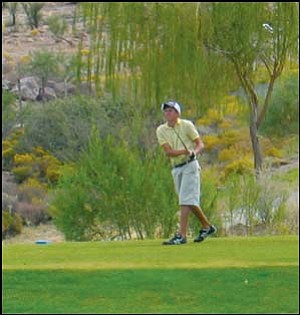 Originally Published: October 16, 2006 9 p.m.
KINGMAN - For some golfers, nine consecutive pars is a relief. For others, it's a headache.
For Tanner Theel last Friday, it was a bit of both.
The Kingman High junior played the first nine holes just like the scorecard called for en route to a 4-over 76 and medallist honors at the Kingman Invitational at Cerbat Cliffs Golf Course, where the host Bulldogs also won the team tournament.
"It's kind of frustrating, but it's actually pretty good at the same time," said Theel of his front side 36. "I had some birdie chances on (No.) four and seven and screwed it up."
Knowing where he stood among the early leaders before playing the final three holes, Theel bogeyed No. 16 and parred No. 17 before splitting the fairway with his tee shot on No. 18. From 210 yards away, he found the front bunker on his approach and couldn't get his par putt to fall.
"I was shaking big time those last three holes," Theel said. "The drive on 18 kept me together because I know I needed to par that hole to win it."
The bogey left him in a tie with Chandler High's Leo Maes, but Theel took home top honors because his par on the course's No.1 handicap second hole beat Maes' score.
"It feels great, especially with all of the people out here that are really good," he said.
The win capped off a strong week for Theel, who also won medallist honors on Tuesday when Kingman played against Lake Havasu and Mohave at Valle Vista Golf Club. Theel shot a 1-over 37, parring the final five holes of the round.
As a team, the Bulldogs shot a 325 on Friday with scores of 76 (Theel), 81 (Brenden Hill), and 84 (Travis Hill and Andrew Carlin).
"I think we went in wanting to win this because it's been several years since we have, so I'm excited about that," Kingman coach Guy Hartnett said. "I'm very proud of them holding it together on the back nine, which you typically think of being the tougher of the two."
Brenden Hill, who finished sixth overall, completed Cerbat's final three holes with a bogey and two pars for a 39 on the back side, tied with Travis Hill for the low score on the second nine.
Kingman was 10 shots ahead of Chandler and 14 in front of third place Page. Deer Valley, Lake Havasu, Sandra Day O'Connor, Coconino and Goldwater also competed in Friday's team tournament.
The Bulldogs finish their regular season on Tuesday with a match in Flagstaff before gearing up for the 14-team Super Regional tournament on Oct. 25-26 at Randolph Golf Course.
BULLDOG BITES: Kingman finished in a tie for third place in the Northwest Region tournament, eight shots behind champion Boulder Creek.