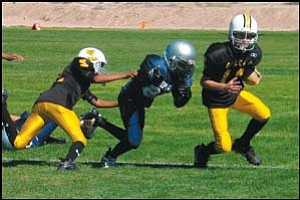 Originally Published: October 19, 2006 9 p.m.
KINGMAN - The Kingman Pop Warner Cobras had four games at home last Saturday, but only came away with one win.
The Mitey Mite Gold team beat Parker 14-0, but the Pee Wee and Junior Pee Wee teams lost to Bullhead City, 36-7 and 25-12, respectively. The Tiny Mite Flag team also lost at home to Parker in an shootout, 54-42.
The Cobras' only other win came by forfeit, as River Valley only had 10 players show up to play the Jr. Midget Black team.
The Junior Midget Gold team and Mitey Mite Black teams suffered shutout losses in Blythe, Calif., 30-0 and 31-0.
The Tiny Mite Flag team will be the first Cobra team to take the field in Kingman at 9 a.m. on Saturday against Bullhead City, but the game of the week will be at 11 a.m. when Kingman's Mitey Mite Black and Gold teams go helmet to helmet.
The Pee Wee and Junior Midget Gold teams are also playing at home on Saturday. Both teams will face Lake Havasu.
The Junior Midget Black Cobras head to Bullhead City on Saturday, and the Junior Pee Wee team travels to Lake Havasu.