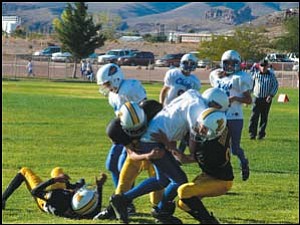 Originally Published: October 25, 2006 9 p.m.
KINGMAN - Kingman Pop Warner's Mitey Mite Bowl ended in a 31-13 win for the Gold team last Saturday at Southside Parka, but Austin Monteiro and the Black squad made the play of the day.
Monteiro, who has polio, rushed for a touchdown while being surrounded by his teammates to put the Cobra Black team on the scoreboard. John Becker scored the team's other touchdown.
The Cobras' Midget team continued its undefeated season with a 34-0 win against Lake Havasu. A win on Saturday at River Valley would clinch the Colorado River Conference championship. Game time is 1 p.m.
Kingman's Jr. Pee Wee team beat Lake Havasu 18-12 in 3-OT. Marcus Early's and Josh Kidd's touchdowns kept Kingman in the game before Preston Hatfield punched in the winning score. The Cobras' other winner last week was its Tiny Mite Flag team in a 30-12 victory against Bullhead City.
The Pee Wee, Jr. Midget Gold and Jr. Midget Black teams all lost.
The Tiny Mite Flag team kicks off Saturday's action in town at 9 a.m. against River Valley. The Jr. Pee Wee and Pee Wee teams also have home games before this week's Jr. Midget Bowl in Kingman, with the Black and Gold teams facing each other.
Both Cobra Mitey Mite teams will be in Lake Havasu.