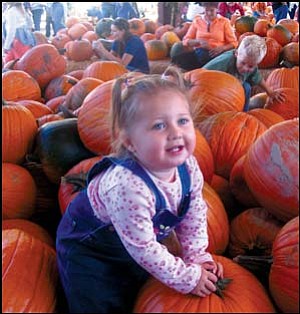 Originally Published: October 27, 2006 9 p.m.
KINGMAN - Halloween doesn't arrive until Tuesday, but in the minds of many, that's no reason to delay the festivities, especially with Friday, Saturday and Sunday wedged in before the traditional spooky Halloween fun.
So let's just call it "Halloweekend" and let the fun and games begin.
It all starts today, with everything from haunted houses to coloring and pumpkin-carving contests going on all over the Kingman area.
The fun at Mohave Community College begins at 3 p.m. today, when MCC will be offering its annual Trick-or-Treat Trail. Children and adults are asked to sign up and pick up their pass and map at Building 200. Costumes for adults and children are encouraged.
New this year at the college is the "Spooky Room." Several bowls with mysterious contents that replicate human body parts such as eyes and brains will be scattered throughout the room. Children have the chance to guess what the item really is.
The college will also be running a children's movie and have face painting. Free cotton candy and popcorn will be available. A sloppy joe sale will also be going on at the same time.
The fun at the college continues with the "Corpse Bride" movie at 6:30 p.m.
Kingman Parks and Recreation Department will be holding a costume contest today for children ages 3 to 12 years old at White Cliffs Middle School.
A pumpkin-carving contest for students age 13 to 19 years old will be held from 4:30 to 5:15 p.m.
The spooky fun turns crazy on Saturday with an underwater pumpkin-carving contest at 2 p.m. at Lake Mohave and a haunted house at 6 p.m. at Crazy Horse Food and Feed, 8746 N. Stockton Hill Road.
The underwater pumpkin-carving contest is being held by Water World Scuba and Travel. The contest starts at 2 p.m. and runs until dusk. The fee is $15 per person for pre-registration. The cost is $25 per person the day of the contest. Only certified divers are allowed to compete. All divers must have a dive buddy. The dive will take place during the evening. Divers are asked to bring the appropriate equipment.
There is also a non-divers and children's pumpkin-carving contest. Other activities for children and adults will be available throughout the day.
There will be food. Contestants are asked to bring their own drinks and a side dish to share.
For more information on the pumpkin-carving event, call Water World Scuba and Travel at 892-3483.
More freaky fun can be found at the Crazy Horse Food and Feed Store. The store is sponsoring a hunted house at its location on Stockton Hill Road north of Kingman.
Scary features include the Headless Horsemen and Ghost Riders mounted on live horses. Wolfman Jack will also make an appearance.
The store will also be holding its annual Trunk-and-Treat contest. The store encourages everyone to decorate their car trunk or truck bed and bring treats for the children. There is also a contest for the best children's costume.
Pet lovers will find spooky fun at 2 p.m. Saturday at Petco on Stockton Hill Road. The store is sponsoring a Howl-O-Ween pet costume contest and a children's coloring contest. The winner of the pet costume contest will receive an 8-pound bag of Iams dog or cat food and a $15 gift card for Petco.
An earlier opportunity for pets and the people who wait on them will take place at noon Saturday at Cerbat Cliffs Animal Hospital, 4110 Stockton Hill Road, which is hosting "Barktoberfest." The costume contest for small and large dog groups continues until 2 p.m.
Information on other Halloween-related activities, including the Eagles' haunted house, the Parks and Recreation Halloween Picnic and events downtown, can be found in today's Out & About on Page 2.
A number of area churches are also participating in activities related to the season. Those events can be found on the Faith pages of today's Miner on Pages 2B, 3B and 15B.
More like this story