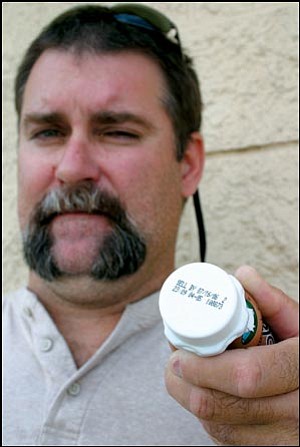 Originally Published: September 14, 2006 9 p.m.
KINGMAN - Kevin Jay came into the Miner office Wednesday with a complaint he said has been a recurring problem at Kingman Middle School. Jay had just gotten two bottles of milk out of a vending machine and both were past their expiration dates.
"The first milk I got had expired July 16, 2006, and the one behind it expired Sept. 4, 2005," Jay said. "You can look into the machine and see the dates on all of it are expired."
Jay's concern begins with his nephew, Jonathan Jay, a student at KMS. He is afflicted with Angelman Syndrome, a rare neuro-genetic disorder characterized by intellectual disability, speech impediment, sleep disturbance, unstable and jerky gait, seizures and an excessively happy demeanor.
Jay said he contacted Steve Condict, assistant principal at KMS, about the matter. Condict would not give him the name of the vendor but said the milk machine was being pulled from the school, Jay said.
"Jonathan is outgoing but unable to distinguish if something is sour or rotten and he likes milk," Jay said.
"This was a problem all last year with the milk machine. One day it was unplugged, then plugged back in and all the milk was sour."
"Who is the vendor? Whoever it is, he needs to get on his people or watch things better himself."
Jay did not have a bottle of milk with him when he arrived at the Miner office. He immediately returned to the school.
He returned with evidence of his claim - a bottle of chocolate milk and the stamp on its lid that said it expired July 16, 2005.
Jay said the machine also had a sign on it during his second visit, telling students not to purchase the product because it was outdated.
School Principal Jerry Arave was contacted. He said the vendor put new milk into the machine last week and disagreed with Jay's claim all of it was past date.
"You can see the tops on the first two rows and I saw two bottles that were expired," Arave said. "Most of the milk is good into October."
Arave would not identify the vendor, but said he was coming to the school Wednesday afternoon to remove the machine. The only milk that now will be available on campus to students is what is kept in the cafeteria.
Vending machines containing water and 12-ounce bottles of Gatorade are not affected.
"We've had some problems with the milk machine for a while," Arave said. "Kids would put in their money and the product would not come down.
"In the past there have been a few instances where milk was bad and we called the vendor to come take it back. However, in the two years I've been here, we've never had anybody become ill from milk sold out of the machine."