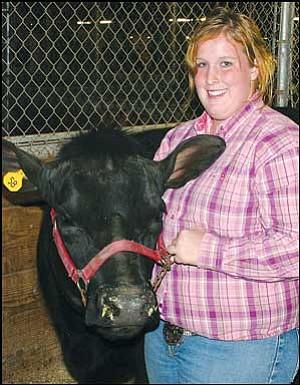 Originally Published: September 15, 2006 9 p.m.
KINGMAN - Residents will see fewer animals at this year's county fair. Fair Vice Chairman Diane Rush said the number of animal exhibits in the open class could be down by around 75 percent this year.
The enforcement of state and federal regulations has caused some exhibitors not to enter their animals this year, she said. Exhibitors must acquire a special show pass in order to show their animals at the fair.
It is only within the last few years that the state and federal governments have gotten together to make the regulations easier to understand. The push to enforce the regulations came from the recent cases of mad cow disease, the bird flu and other animal-related diseases, said Arizona State Department of Agriculture Officer Randy Servis.
The laws actually went into effect in 1996. Differences between state and federal regulations caused a lot of confusion for breeders, exhibitors and sellers of all kinds of livestock, and that confusion made enforcing the regulations difficult.
"There were some things even I was confused about," Servis said.
In order to get a show pass, an exhibitor must be able to prove ownership of the animal and have a premise ID number.
An exhibitor can prove ownership with a bill of sale or an inspection. Some animals, such as sheep and goats, can be self-inspected. An officer or inspector from the Arizona Department of Agriculture must inspect other animals, such as cattle and pigs.
A premise ID number tells inspectors which farm, breeder or organization the animal came from. This lets the government track the movement of animals, allowing them to pinpoint where a sick animal may have come from and quarantine a specific area instead of a whole county.
It also provides a way of proving that meat products from the United States and Arizona are safe.
Right now, premise ID numbers are only mandatory for show animals. They may become mandatory for all livestock in the near future, and there is much opposition from ranchers, breeders and other raisers of livestock.
They oppose the idea because they don't want the government to know how many animals they have.
"It's kind of like asking someone how much they have in their bank account," Servis said.
The show passes cost about $5. An exhibitor can show a mix of up to 10 animals on one pass. The passes are good for one year and allow exhibitors to take their animals anywhere in the state.
In an effort to get the word out about the new passes, Servis held a special presentation for 4-H exhibitors in May. Despite the presentation, the number of 4-H projects at the fair has dropped, said Lisa Schwartz-Ipsea, an assistant livestock director at the fair. She said 112 projects were scheduled for the fair this year, down around 25 projects.
Open-class animal exhibits have also suffered. The open class is for anyone who is not a part of 4-H or the Future Farmers of America. Schwartz-Ipsea said last year they had eight cattle in the open class. This year they have only two.
The biggest hit is in the open goat class, she said. This year, two exhibitors that regularly bring between 12 to 15 animals will not be showing at the fair. That means a drop of at least 24 animals in the class.
The exact number of animals at the fair will not be known until all the exhibitors and their animals show up.