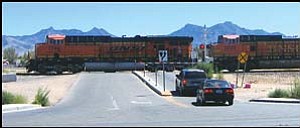 Originally Published: September 25, 2006 10:16 a.m.
KINGMAN - City officials confirmed Louise Avenue will close next Friday after the ribbon-cutting ceremony for the new Airway Avenue underpass.
Pete Johnson from the Kingman City Engineering Department confirmed the closing Thursday afternoon.
"We hoped to have some more time," said Johnson.
The railroad wanted the Louise Avenue crossing closed within 30 days of the opening of the new underpass.
The railroad will be putting up barricades to block off the crossing.
Johnson said the city will be posting signs notifying residents of the closing early this week. There will also be additional traffic signs on streets surrounding the crossing to notify motorists and redirect traffic.
The underpass was a joint project between the city and the railroad and cost around $9 million.
The railroad will be reimbursed for the cost of building the underpass, said Johnson. The money to help pay for the project will come from developers on the east side of the tracks, he said.
Approximately $6.2 million of the total cost will be paid by assessment. Approximately 1,676 acres of property were assessed for the project at a cost of $3,708 per acre.