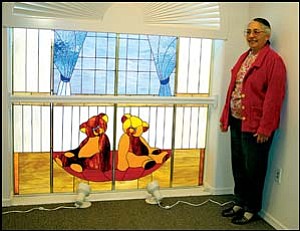 Originally Published: April 3, 2007 9:39 p.m.
KINGMAN - Sarah's House, established in January 2000, has a goal of providing justice and aid for victims of crimes of abuse.
To commemorate the work Sarah's House does, Director Sheila King said Gov. Janet Napolitano will be visiting the home at 1:15 p.m. April 19.
The alliance victim center was dubbed "Sarah's House" in commemoration of the death of Sarah Milam on Sept. 21, 1990. Sarah's death was allegedly linked to physical abuse by a trusted friend, however, the case is currently pending retrial in Flagstaff.
After years of fundraising and hard work, Sarah's House moved into a new, state-of-the-art facility in October 2006. The facility, located near Wal-Mart off of Airway Avenue, allows the staff to interview victims of all types of abuse in a more comfortable setting.
"Sarah's House specializes in dealing with family violence," according to promotional material.
"This includes child abuse, child molestation, domestic violence, elder abuse and sexual assault; we provide intervention, prevention and educational services to the victims and their families. Sarah's House has three trained sexual assault examiner nurses who perform forensic exams on victims of child abuse, child molest and sexual assault."
According to King, the most important thing to remember about the new facility is that it is not a shelter. King said they simply help people through the court process. The facility is a much more comfortable place for victims than the police station or the hospital.
The new facility is equipped with state-of-the-art technology to take forensic examinations of the victims, allowing them to recover and record crucial evidence for use in prosecutions. The examination rooms allow for privacy and a modicum of comfort during the process, including an examination bed shaped like a hippo to put younger victims more at ease.
The new Sarah's House allows them to take forensic interviews, which focus on the attack or incident, while offering a homier atmosphere. King said the rooms are decorated with couches and pillows to look more like a living room than an interview room.
Domestic Violence Coordinator Pat Pirkle oversees the interview while the police and a Child Protective Services representative, if necessary, watch through a closed-circuit monitor in a nearby room. King said victims are often more comfortable with this method than with an interview in a police station and can therefore offer better information. The interviews are recorded directly to a DVD which can be used during a trial.
In addition to overseeing these interviews, Pirkle said she is the one who receives the information whenever an arrest is made or a domestic abuse incident occurs. She then contacts the victim within 24 hours, if she can, to go over the whole process of what is going to happen. She helps them through the court process as well as filling out necessary paperwork, such as an order of protection.
Pirkle said she has heard several times that the victims feel safe at Sarah's House, where they can receive whatever they need. The whole process works so well because all of the necessary agencies share information, she said.
Bringing the focus to children victims is always a consideration for Sarah's House, King said. The playroom is equipped with a small table for tea parties, various games, toys, a TV set with video and DVD, a library of movies and a number of stuffed animals. Each child who comes through Sarah's House for whatever reason receives a stuffed animal and a quilt made by a local group.
The room can be used for children to play in while awaiting certain events, or through the use of a two-way mirror, can be used by CPS to monitor family visitations. King is a certified victim advocate and heads a volunteer crisis intervention program. She said they average about 100 victims a month.
"Our crisis team responds to calls 24/7 to provide the victim with crisis intervention, information and referrals and personal advocacy," Sarah's House material said.
Lining the walls of the facility are tiles that were passed out at local elementary schools for children to decorate. The tiles were sealed at the prison and the prisoners came and attached them in a row lining the walls.
The pride and joy of the new building is a stained glass window created by local artisan Rosanne Rosenberg. Donating her time and skills, as well as assisting to find supporters for the purchase of the materials, Rosenberg created a 5-foot x 5-foot stained glass window on the second floor, incorporating the teddy bears that have been used to designate Sarah's House since its inception.
Rosenberg said the project took her about a year to complete and is comprised of four panels held together by small hinges. She said she took on the project because she truly believes in Sarah's House and what it does.
For more information, call 757-8103 or visit the Web site at www.sarahs-house.net.