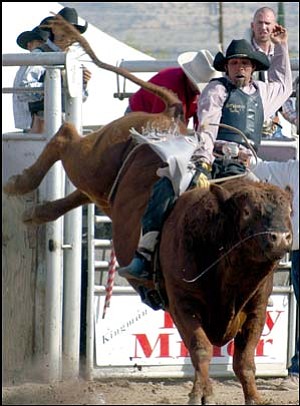 Originally Published: April 3, 2007 9:02 p.m.
KINGMAN - Herberta Schroeder has seen a lot of improvements in photography since she began taking pictures 37 years ago with her first camera, a Brownie.
She went to the 2006 Andy Devine Days Rodeo armed with a Konica Minolta Maxxum 5-D digital SLR. She got a good photo of a bull rider and submitted it in her first contest competition.
Organizers and judges were suitably impressed and invited Schroeder to attend the International Society of Photography Convention and Symposium held March 22-25 at the Riviera Hotel in Las Vegas as a nominee for the Amateur Photographer of the Year award.
"When I saw the competition, I didn't think I would even place," she said. "We were called up to the stage and asked to go through the photos we had submitted and why we picked that one for the contest.
"Then, we found out where we'd placed."
Schroeder was one of five fourth-place finishers in the contest. She received a $500 check, crystal trophy and medal.
Three third-place finishers each got $1,000 and the second-place winner received $2,500. The grand prizewinner left with $10,000.
A total of 250 amateur photographers from around the world attended the convention.
Schroeder, who was born in Needles, Calif., was asked who first got her interested in photography.
"When I was born, a neighbor who was 80 and loved photography came over to our house each afternoon and took my photo daily for the first year of my life," she said. "That was a sort of baby gift."
Schroeder said she learned about lighting and posing for fashion and portrait photography, aspects of fashion and commercial magazine photography and copyrighting from several guest speakers. Keynote speakers were David Hume Kennerly and Bob Gruen. Lecturers included Robert Nickelsberg and Catherine Angel.
Schroeder is studying psychology at Mohave Community College. She expects to graduate with an associate's degree in May 2008.
She plans to attend a PRCA rodeo event that concludes today in Laughlin.
"I want to get credentials to shoot PRCA events and have a media card for this weekend," Schroeder said. "I hope that gets my foot in the door."