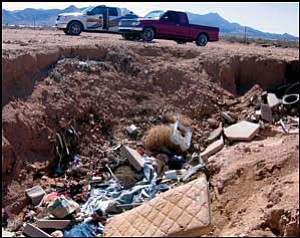 Originally Published: April 5, 2007 10:27 a.m.
KINGMAN - The 168 acres of city-owned space proposed for the Kingman Crossing is a dump, or at least that's how some people are treating it.
Dozens of four- to five-foot tall uniform piles of debris, from dirt and yard rubbish to construction materials, pepper the 168-acre plot bordering Interstate 40 to the south. The piles are joined by scattered trash that has been illegally dumped by unknown individuals.
While rummaging through the debris, which included bags of animal carcasses, clothes, appliances and stuffed animals, Kingman Police Department Neighborhood Services Officer Theresa Jones found four documents containing the same names with a Prescott address. And that's more than she needs to start the process to hold as least one person accountable for the mess.
KPD Neighborhood Services needs at least three pieces of identification to notify the people and request they either clean up the site to specific standards or face fines.
If three pieces of information are found, it doesn't matter if the people dumped it themselves or paid someone to do it, even if they had no knowledge of the stuff being dumped - it's their responsibility to clean it up.
If KPD cannot make contact with the targeted party, Jones said Tuesday at the site, the city will clean the area. The cleanup might be aided with the help of volunteer minimum-security inmates from the state prison as part of their community betterment program.
KPD Neighborhood Services used its more than $50,000 budget to respond to the more than 1,200 complaints it received last year, removing 794 tons of trash and debris out of Kingman homes. They also towed 178 vehicles and demolished four buildings in 2006.
Kingman Public Works Director Jack Kramer said he has received calls from the public about illegal dumping on the Kingman Crossing site, which is also used by the city to dump excess dirt from its projects.
Kramer pointed out that there was debris and trash on the site when the city purchased it, including an abandoned vehicle.
City employees have been out to the site twice in the past three months cleaning up some of the mess out there, according to Kramer.
"A small pile turns into a big pile real quick," he said. "We try to catch it as fast as we can ... It's hard to keep up."
Kramer said that he personally stops by the site monthly and once used his ATV to try to chase down an individual dumping on the site, but was unsuccessful.
While at the site Tuesday, Jones said this is the first time that she has heard about the illegal dumping on the site. Someone caught illegally dumping could face a Class 6 felony that could lead to one year in prison and up to $150,000 in fines.