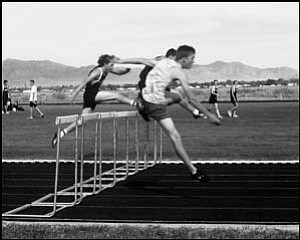 Originally Published: April 5, 2007 8 p.m.
KINGMAN - In its only home meet of the year, the Kingman boys track team beat North Canyon 83-57 on Wednesday, while the Bulldog girls narrowly lost, 68-63.
Kingman's Matt Snay (800 and 1,600-meters) and John Soto (shot put, discus) led the boys team, each winning two events. Jesse Posey (200), Mike Bartholomew (110 hurdles), Wes Anderson (pole vault) and Shane Hall (high jump) also won individual events.
On the girls side, Kingman's Dominique Hale (high jump), Emma Cowan (100 hurdles), Tanisha Karn (shot put), Rachelle Bullen (100), Asenath Light (triple jump), Marie Boone (400) and Alyshia Solano (800) won their events.
Top finishers for Kingman in other events were Karn (long jump, discus), Cowan (300 hurdles), Bullen (200), Bailey Lawson (1,600) and Luserito Gaytan (3,200) for the girls, and Posey (triple jump, 100) Bartholomew (300 hurdles), Orry Berlemann (400), Matt Kinion (3,200) and Matt Dally (long jump) for the boys.