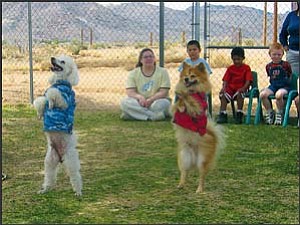 Originally Published: April 6, 2007 8 p.m.
KINGMAN - Children in the Western Arizona Council of Governments Kingman North Head Start program at Mohave Community College were treated to a special short performance Thursday by performers with Circus Chimera, which is in town this weekend.
Marie Mattingly, family development advocate with Head Start, said Circus Chimera contacted the program and asked to come by with live animals. The idea was welcomed.
"Wherever we go, we do advance performances for children," said Bobbi the Clown, who was born in Australia.
"We like to give something to the community, so we come ahead of the show and do performances at pre-schools."
Bobbi handles the only two animal performers for Circus Chimera. They are Texas, a 6-year-old female Pomeranian, and Aussie, an 8-year-old male poodle.
Texas stood on her hind legs and danced for the 12 appreciative children present. He then sat in a cart that was pushed from behind by Aussie.
Aussie also jumped through hoops, rolled a small barrel and engaged in a counting game with Bobbi. Bobbi would hold up two or three fingers and Aussie would correctly bark two or three times. When Bobbi asked how much two and two is, Aussie barked four times.
Aussie and Texas concluded their portion of the 20-minute program by standing upright and "walking to town."
Bobbi began the show by interacting with children.
She produced a "magic" bag and got help from Jared Winslow.
"What's in the bag," Bobbi asked.
Jared put his hand into it and said "Nothing."
Bobbi asked her audience if they know any magic words. Abracadabra and alikazoo were responses. She got everyone to say alikazoo before Jared reached a hand back into the bag and pulled out a plastic egg.
Karmin Spenard then came forward as the next volunteer.
Bobbi asked children if they knew a magic word to make things disappear and "hocus pocus" was the response. She got the children to say it before Karmin reached into the bag, where the plastic egg had been a moment earlier, and found it empty.
Jennifer Wisely, a program aide, then was enlisted for one final activity before the canines performed.
When Bobbi asked Wisely how often she exercised, the aide said at least twice a day.
Bobbi asked how strong she was, and Wisely said, "I'm strong."
Bobbi produced a piece of elastic, black in color, and had Wisely hold one end. She then walked away, holding the other end close to her buttocks.
Wisely could no longer hold on after Bobbi got perhaps 10 feet away and let go. The elastic snapped and struck Bobbi in the buttocks, producing an "ouch" from her. They did it a second time and children laughed louder.
"Guess what?" Bobbi said. "It hurts."
Upon completion of the canine performance, children got to pet Aussie and Texas while Bobbi gave each child a ticket for free admission to the circus.
Sponsored by Route 66 Rotary, Circus Chimera will be at the Mohave County Fairgrounds for performances at 7:30 p.m. today, 1:30 p.m., 4:30 p.m. and 7:30 p.m. Saturday, and 1:30 p.m. and 4:30 p.m. Sunday.
There will be Chinese acrobats, jugglers, clowns and contortionists to see, in addition to Aussie and Texas, Bobbi said.