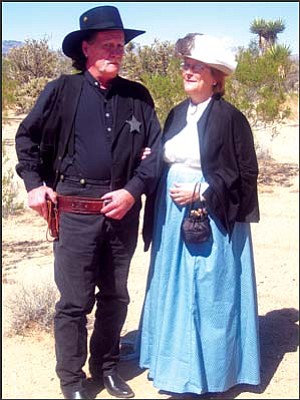 Originally Published: April 6, 2007 1:33 p.m.
GOLDEN VALLEY - The "old timers" who have lived in this part of the Southwest all of their lives tell tales of cowboys and Indians, of settlers and soldiers and lost gold mines.
It's their authentic local history that has captured the imagination of Bob McCord and his wife, Annie. The founders of the Golden Valley Rangers are eager to start gathering those stories to use as the basis of scripts for their 1800s re-enactments. Bob McCord already has 87 scripts ready to go, but he wants to write original scripts about local events.
"I worked for years in Western movies, and when I came to this area I was really interested in seeing the gunfights," McCord said. "What I've seen is more of the modern cowboy. What I'm more interested in is the Old West as it really was. I really love that era. I often wish I could have been born back then, in simpler times, without today's drug problems and nuclear threat. The times were hard, but they were better. My ancestry is part Cheyenne. Cochise was my great-great-grandfather, and I was raised on a ranch. I love that life."
It's important to honor an area's history.
"We are here because of what our ancestors went through," Annie McCord said. "It's up to us to honor the Old West."
Because of the general similarity of the gunfight shows staged now by local groups, McCord saw an open door for his brand of edu-tainment.
"When we started looking at the area and the kinds of shows we want to put on, it looked like virgin territory," he said. "We want to do shows about the authentic 1800s - bank robberies, train robberies, fist fights, shoot outs, that kind of thing."
McCord has acted in such well-known Westerns as "Open Range" and "Ghost Rock," working with some of the bigger names - Robert Duvall, Kevin Kostner, Clint Eastwood, George Kennedy and Frank Sinatra, to name a few.
He also has worked in movies set in modern and futuristic times, including "The Gauntlet" and "Return of the Jedi."
"In the 30 years I worked as a stuntman in the movies, I was set on fire 26 times and only got mildly hurt three times," he said. "I got to know a lot of people. I've been in shows that were scouted by some producers and directors who ended up offering acting jobs to people in the troupe. It happens every once in a while, and I think it would be great to offer that kind of opportunity to the talented people in this area."
The McCords hope to put together the Golden Valley Rangers re-enactment troupe with local talent.
"Our dream is to make Golden Valley and the Golden Valley Rangers a tourist destination, and give the locals something fun to do." Bob McCord said.
"We've talked to several people who are interested, and we'd really like for someone who has land they aren't using to allow us to build a small town there.
"We're going to call it Valley Town. It will all be built on skids in case we ever had to move it, but otherwise it will be a permanent place where we could stage our shows."
While the Golden Valley Rangers will be run as a for-profit business, the McCords also believe in supporting the community and helping those less fortunate.
"Four years ago, a group I had put on shows and raised $11,900 in just two weeks for Jerry Lewis's kids. We'll do some shows for charity, but our focus will be on running a viable entertainment business. Our actors will get paid."
Today's tourists and local audiences are seeking entertainment more than a local history lesson, but McCord thinks there's a way to combine the two.
"Most people like a little humor in the show, so we'll make sure there are some laughs, but we're more interested in portraying the Old West as it was in this area, with authentic stories and clothes and guns, the whole thing."
Annie McCord is a talented seamstress who has created all of her own Western dresses and undergarments, complete with lacy pantaloons.
"I can make the costumes, so anyone who wants to join us doesn't have to worry about that," she said.
"We're ready to start rehearsals as soon as we get the actors we need," Bob McCord said. "We'd like to take the group to Tombstone for the competition there. You can win trophies and money, and it opens doors for some the actors to get parts in commercials and movies."
Acting opportunities with the Golden Valley Rangers are open to those ages 16 and older. All guns used in performances are as authentic to the era as possible, and all will shoot blank ammunition.
"Bob does a safety demonstration with a tin can at all of the shows," Annie McCord said. "It shows that even blanks have to be handled properly. A blank shot in a gun puts out a big blast of air that can dent a can and can really hurt a person if the gun is shot too close."
The McCords are accepting applications from those who want to act in or work with the Golden Valley Rangers. For more information, call them at 565-7591.
More like this story