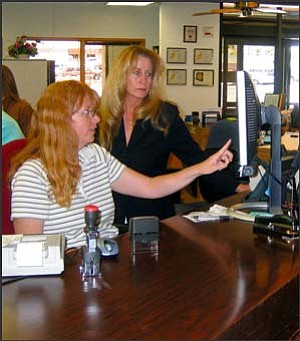 Originally Published: April 30, 2007 7:27 p.m.
KINGMAN - Dozens of city records collected over that last several months show that city spending for payroll has increased dramatically over the last couple years.
Actual spending isn't yet available for the current fiscal year, but records show that spending in 2007-08 in comparison to last year's budget is set to increase salaries by more than $2.6 million. That includes all city departments.
The new fiscal year begins July 1, and while the salaries in next year's budget book are only preliminary numbers, City Council approved the preliminary budget last year with only a few, minor adjustments, according to the city.
The city claims good reason for the significant payroll increases: it was an attempt to combat high turnover rates within each department. To make itself more competitive, the city adopted a policy that increased salaries and put them at the 50th percentile in comparison with similar sized cities and towns. The study used to determine where, exactly, the 50th percentile was also accounted for similar economies and labor markets.
After fiscal year 2004-05, when the payroll budget actually decreased by nearly $800,000, the following two fiscal years have seen increases of 34 percent and 14 percent. That was a total increase of $5.2 million in two fiscal years out of a payroll budget currently approaching $14.9 million.
Department heads have seen significant increases in the past few years as well.
Since January 2005, when Paul Beecher was hired, the city manager's salary has increased an average of $24,118 per year. He now makes $149,148, not including benefits, an auto allowance and numerous expenses such as rent that were paid upon his hire in the last month of 2004 and first six months of 2005.
The Bullhead City and Lake Havasu City managers' salaries were two of the comparators used to determine Beecher's salary. According to the documents presented to the Kingman City Council, Bullhead City paid its manager $150,000 this year, while Lake Havasu City paid its manager $144,000. Beecher falls between the two at $149,000. But according to records requests filed by the Miner from the two cities, the Lake Havasu City manager actually made $113,000 last year. It has not yet been determined if other managers' salaries in other cities used by Kingman in determining Beecher's salary were also false.
Beecher's benefits also more than doubled from 2004-05 to 2005-06, the first fiscal year that Beecher created the budget. Beecher is currently the highest paid city official.
Human Resources and Risk Management Director Jackie Walker saw significant increases in the past two years, averaging $13,000 each year. Walker took over as director in 2002 and was paid $52,903 in salary her first full year in the position. She received moderate increases from 2002 to 2004, averaging $1,300 a year. Walker saw a $15,700 salary increase from 2003-04 to 2004-05, then two $11,000 salary increases the next two years. In five years, her salary has gone from $52,903 to $94,681. That's a total increase of $41,778, or nearly $7,000 a year. She is currently the eighth highest paid official.
Other salaries are similar. From May 2003, when Robert DeVries took over as police chief, his salary has increased from $72,930 to $96,725. DeVries is the fourth highest paid city official.
Overall, the majority of department heads - those who've been in the position for several years - have seen salary increases in the last two years three times higher per year than they were prior to 2004-05.
The actual payroll increases are not currently available for the 2007-08 fiscal year, Finance Director Coral Loyd said, because the budget has not yet been approved. Beecher must still do his reviews, but the projected increases call for full merit increases for each department as well as a 4.1 percent cost of living adjustment.