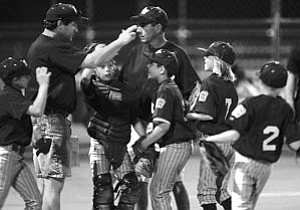 Originally Published: August 2, 2007 2 p.m.
KINGMAN - The Kingman North 9-10 All-Stars finished their run through the Little League Minor Division State Tournament in Gilbert with a 2-4 record.
Kingman's second win came last Tuesday against Four Peaks, a 7-4 victory. Kingman's only other win came against the Diamondbacks from District 3 earlier in pool play. It was the Diamondbacks' only loss until the championship round. The District 2 team from Goodyear was the eventual champions.
"It was pretty even competition," KNLL coach Bill McCord said. "No one outclassed us. We could have gone 4-2 just as easily."
The team wished to thank the residents and businesses in Kingman for donating money to support the team. McCord said the excess donations not used this season will be placed into an account for future North All-Star teams. "A couple small things go different and we are in the playoffs, but that's baseball," McCord said.
A party for both North All-Star teams is being planned.