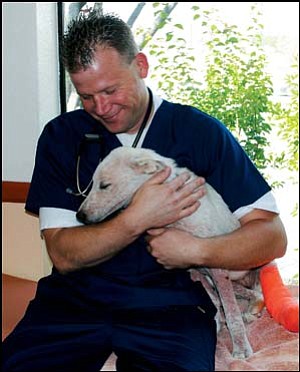 Originally Published: August 5, 2007 2:39 p.m.
KINGMAN - Chris Nelson was driving along old Route 66 between mileposts 46 and 47 on July 29 when he noticed movement out of the corner of his eye along the roadway.
He turned his car around and went back for a closer look.
"I found a puppy that had been hit by a car," Nelson said.
"All of the bones in her left back foot were broken and her right rear leg was fractured at the ball joint."
Nelson, a records clerk at Arizona State Prison west of Kingman, took the puppy to a veterinarian he managed to contact.
He said he had to put a $500 charge on his credit card to get medical attention for the pup he and co-workers have named Gracie.
Gracie was moved to Kingman Animal Hospital the following day and is scheduled for surgery Tuesday to repair injuries to both legs.
The cost is expected to be around $2,000, and an account has been set up there for donations.
"I've been going to see Gracie every day, and she appears in good spirits," Nelson said.
Gracie is a mixed breed with an estimated age of six months, said Lauri Steele, receptionist at Kingman Animal Hospital.
Her injuries are consistent with being hit by a car, Steele said.
Anyone wishing to contribute to Gracie's care may leave a donation at Kingman Animal Hospital, 1650 Northern Ave.
The account number is 5257.
Once she has sufficiently recovered, Gracie will be put up for adoption, Steele said.