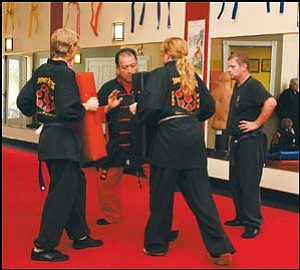 Originally Published: August 5, 2007 3:06 p.m.
KINGMAN - Ted Guerrero has taken on a lot of different titles in his two years living in Kingman.
Originally, he had every intention of just being known as Senor Guerrero teaching Spanish to high school students until his retirement.
But in no time, the self-described workaholic became Coach Guerrero, assisting with the Kingman High boys soccer team. A year later he picked up a title he left in California, becoming Shun Shifu (or head instructor) Guerrero when he opened the Moore's Shou Shu Martial Arts studio downtown.
And on June 2, he added the acclaim of Hall of Famer to his resume as one of the newest inductees into the U.S.A. Martial Arts Hall of Fame.
"It ranks pretty high for me," said Guerrero, who received the Martial Arts Dedication Award of the Year at a banquet in Los Angeles. "I'm up there with guys like Chuck Norris, which is pretty amazing to me. It means a lot to me to represent the marital arts alliance and expand Shou Shu across the globe."
Guerrero's passion for martial arts comes across when he speaks of its history and marvels at the works of people such as Bruce Lee and Jackie Chan. And the 70-80 students who share his addiction are prime examples of his dedicated work.
"He's hard on you, but if you can't figure it out, he'll find a way until you get it right," said Jason Kelley. "You wouldn't think he could do the stretching and bending and getting in the air like he does for a guy his age, but it blows you away because you see it right in front of you."
Kelley and Guerrero walked a similar path that led them to martial arts. Kelley picked up Shou Shu shortly after having back surgery, and Guerrero started at age 29 after a semi-professional soccer career left him with bad knees and arthritic legs.
"I needed an exercise program that was fun and flexible," he said, "something with less impact - at least I thought it was less impact - but with more fluidity. Doctors said I'd be in a wheelchair, but I told myself 'I can't be a cripple.'"
Now 52, he can still "kick people in the head" and continues to advance in the martial arts rankings. He is currently a third-degree black belt with hopes to earn his fourth degree by the end of the year. Guerrero teaches the art of Shou Shu, a Chinese Mandarin defensive application art similar to the Wu Shu art popularized by Jet Li that uses the fighting styles of seven different animals.
"The difference is that Wu Shu is more acrobatic, where Shou Shu is more of a no-nonsense, street style," he said.
Guerrero said he enjoys watching people of all ages and walks of life benefit physically and mentally from martial arts, especially his youth students who develop stronger values of honesty and respect.
"I had the easy life teaching high school, but this is a 24-7 job and I'm still excited to come here every morning," he said. "I have so much fun I don't even consider it a job."
Guerrero is planning a free demonstration for the public later this month and holds Shou Shu and Thai Chi classes daily. Moore's Martial Arts is located at 310 Beale Street.