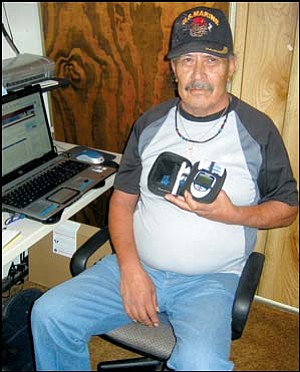 Originally Published: August 9, 2007 2 p.m.
KINGMAN - Joseph Zarate feels the Veterans Administration has a double standard when it comes to care of veterans afflicted with diabetes.
Zarate served 4-1/2 years in the United States Marine Corps. In 2001, he was diagnosed with type-2 (non-insulin dependent) diabetes for which he takes the medication Metformin.
He receives 90-day supplies of Metformin (three tablets per day) and strips for testing his blood sugar. However, he is only authorized 50 strips, which is not nearly enough to test himself twice daily (180 strips needed) during each three-month period as a VA doctor has told him to do.
Diabetes mellitus is a group of diseases characterized by high levels of blood glucose (sugar). It results from problems with insulin production and how the body uses it.
Type-2 diabetes develops when the body does not use insulin properly, according to information on the Web site of the United States Department of Veterans Affairs. In response, the pancreas produces more insulin initially and then reduces its production until there is not enough insulin to meet body needs.
That leads to increased sugar levels in the blood, while cells are starving for energy. Nerves and blood vessels ultimately are damaged, resulting in heart, blood vessel or kidney disease, nerve problems and gum infections. In turn, those complications can lead to stroke, blindness and amputation of limbs.
There was a problem with the last mail order. Zarate did not immediately open it and check to ensure it contained three bottles, each with 90 tablets, of Metformin to cover three months.
He pulled out a bottle as needed, and when he finished the second bottle on July 19 and went to get the third, it was not in the box.
Zarate tried calling the mail order company about the shortage but ran into a maze of voice prompts that only led to frustration. In checking his online account with the company, he found Metformin could not be refilled until Aug. 9 and no more test strips could be sent out until Aug. 19.
"I called the VA Hospital in Prescott (where he spoke to a woman in the pharmacy) and they filled an emergency Metformin order and mailed it out to me July 20," Zarate said.
"However, they would not send me any test strips because I'm a type-2 diabetic and am only authorized 50 strips every 90 days. The math doesn't add up."
He said it is unfair for the VA to limit testing supplies for type-2 diabetics and not for those classified as type-1 (insulin dependent).
"We can go without medication for a short time," Zarate said. "But if you look at studies on diabetics and the importance of keeping blood sugar at normal levels, you find different things can go wrong with us.
"I have diabetic neuropathy in my arms and legs. The medication for it costs so much the VA will not consider paying for it."
Zarate went to a Kingman pharmacy to purchase more test strips at his own expense.
Sally Fine, acting public information officer for the VA Hospital in Prescott, said the pharmacy there will do an emergency medication fill anytime for a veteran, as was the case for Zarate.
She contacted head pharmacist Greg Arriola for clarification about policy on diabetic test strips.
"VA policy is that anyone on oral medication gets one box of 50 strips every 90 days, in spite of the fact there is no good data saying finger sticks make any difference in controlling diabetes," Fine said.
"Type-1 diabetics do get more test strips, 200 for 90 days."
Fine could not say how long the policy on test strip numbers has been in effect. She suggests any veteran with diabetes having a problem contact Arriola at (928) 445-4860, ext. 6213.
Unfortunately, there is no local help available to the best of her knowledge for diabetic veterans needing oral medication or test strips, according to Melissa Palmer, diabetes education program coordinator at Kingman Regional Medical Center.