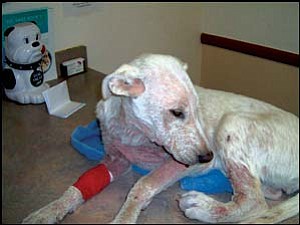 Originally Published: August 10, 2007 2 p.m.
The final chapter of Gracie's life had a sad ending Wednesday.
She died at Kingman Animal Hospital about 45 minutes after veterinarian Erika Koenig had completed surgery on Gracie's injured rear legs.
"The complications from all the trauma she had experienced were too much," Koenig said.
"I believe she threw a blood clot from her extensive bone surgery. Clots can get into the blood and travel to the heart, lungs or brain (with fatal consequences)."
Chris Nelson, who works at the Arizona State Prison west of Kingman, and Chris Dyer found Gracie on July 29 while driving along old Route 66 between mileposts 46 and 47.
A car hit the mixed breed, whose estimated age was six months.
They first took Gracie to one animal hospital in town, where Nelson had to place a charge against his credit card to get emergency care for her, as it was a Sunday.
Gracie was moved the following day to Kingman Animal Hospital. A story about her plight appearing Sunday prompted a public outpouring in excess of $1,500 to cover the cost of the surgery.
Nelson was at work Wednesday afternoon when Koenig phoned to tell him Gracie did not survive.
"I'm absolutely shocked and devastated," Nelson said. "I'm saddened, but know she's in a better place."
Nelson said he will have Gracie cremated, though he was not sure Thursday of what he will do with her ashes.
Gracie's injuries in themselves were not life-threatening.
Koenig said every bone in her left rear foot was broken, along with her lower shinbone. Surgery entailed putting four pins in place in the left leg, along with removal of the head of the femur in Gracie's right leg and sewing everything back together.
"The mood here is sad," Koenig said. "We're all devastated and heartbroken.
"We took care of Gracie and bonded with her. It's like losing one of our own."
Nelson sent an e-mail to the Miner, which eloquently summed up his feelings. It was sent before he learned of Gracie's death.
"Monday when Kingman Animal Hospital called to inform me that $1,500 already had been donated, it was all I could do not to cry at my work station, and now we are at over $4,000. I'm not sure if I found Gracie or if Gracie found me, but she has made me realize with all the horrible things that go on in the world today, there are still amazing people out there. I have regained my faith in what people in our community can do.
"I thought the hard part would be getting Gracie well, but in the end, the hard part will be giving her up to one of the many caring families that would like to take her home.
"All of the funds that are left over will be used to set up the 'Amazing Gracie Fund' at Kingman Animal Hospital, which will help other stray animals in cases like hers."
"Once again, I just want to say thank you to the Kingman Daily Miner for running the stories, the Kingman Animal Hospital staff for the great care and the love you have given Gracie, and the community for opening their hearts."