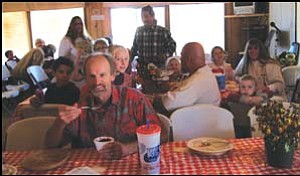 Originally Published: December 5, 2007 9:12 a.m.
GOLDEN VALLEY - A lot of people who might have thought they would have to go without on Thanksgiving Day ate to their hearts' content, instead.
There was turkey, stuffing, homemade cranberry sauce, mashed potatoes, gravy, sweet potatoes and pumpkin pie - all of the traditional favorites.
A collaborative effort between Calvary Bible Fellowship church and the Golden Valley Food Bank resulted in 200-plus people having a Thanksgiving dinner they might not have, otherwise.
Pastor Gerhard Grieslinger, Associate Pastor John Bennett and their congregation hosted a community family-style meal at the church on North Adobe Road, and volunteers from the church and the food bank delivered numerous individual meals.
With their combined efforts, they fed a total of 263 people.
"John called and told me he had delivered turkeys, too, to 30 people at one trailer park and 40 at another one," said Pat Bailey, Bennett's mother and director of the food bank. "I was very proud of him. I had planned to make sure those folks got turkeys, but he picked up the ball and got it done."
The meal at the church started at 9 a.m. and ran through the afternoon.
"There's plenty for everybody," Grieslinger said, sitting at one of the long tables with his parishioners, "and every is welcome."
Sheryl Grieslinger, the pastor's wife, said this was the fifth Thanksgiving dinner the church has hosted over the years, and that each one has been a blessing for guests and hosts, alike.
Bailey said Lake Havasu Mortuary owners Kevin and Kristy Lane, John Bennett and Lake Havasu Merry Maids owner Debra Bennet - Bailey's daughter - contributed generously to the cause, as did Safeway, 66 Auto and Preston Investments, all from Kingman.
"They all deserve a big thanks, she said.
"And there's another old gentleman, Don Markichevich, who has been helping us here at the food bank for years and years," Bailey said.
"He's been very sick, and we need to acknowledge all of the time and money he has spend helping keep the food bank supplied with food. I want him to know I love him; we all love him. He's always been my buddy. He and is wife, Doris, are very special people."
Golden Valley Food Bank is accepting donations of food and cash in preparation for the annual Christmas food basket give-away to the area's needy families.
"Anyone who wants to donate can drop canned goods and turkeys here at the food bank," Bailey said.
"And we're accepting gifts for children and animals, too - I have a real soft spot for the old folks, kids and animals. The Mohave County Sheriff's Office is donating 25-30 bikes for kids, and we need candy, toys and treats. Anything anyone can contribute will help. We have a lot of people in need in this community."
The food bank already had a Christmas list of 42 children's names by Nov. 27, and the list keeps growing, Bailey said.
"When people call us, they need to tell us if the child is a boy or girl, the age, whether they need a bike, and other information," she said.
For more details or to volunteer, make a donation or add a child or elderly adult to the Christmas list, call the Golden Valley Food Bank at 565-2551.