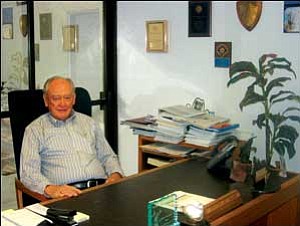 Originally Published: December 6, 2007 3 p.m.
Mayor Les Byram is not seeking re-election to his seat in the upcoming primary.
In a letter directed to the citizens of Kingman, Byram stated, "There has been a loss of trust and accusations of mismanagement. Council meetings have at times been uncivil with claims and shouting matches. This situation is not good for anyone and certainly not good for our community. Things need to change."
In an interview Wednesday, Byram said his primary reason for leaving city government is the criticism by citizens, which he said began during Monica Gates' administration.
"If we are ever going to bring back the trust and confidence of the people in city government, I sincerely believe that we've got to have a change. We've got to have a new face and to work with a new Council that people can believe or get involved with in bringing back the trust that was once here," Byram said. New faces on the Council will be the quickest way to restore the confidence of the citizens, he said, but he thinks "it has to be someone who doesn't have ties to Monica's administration or mine."
In his letter, Byram stated, "I would hope that in the best interest of the citizens of our city that Monica Gates would withdraw her candidacy ..." He added that, if she does not withdraw, citizens "should remember why they overwhelmingly removed her from office two years ago."
In a telephone interview Wednesday, Monica Gates responded, "I will not withdraw my candidacy based on a request from Les Byram. It is absolutely most important that the people of Kingman have a choice in this election. I believe I can serve the people of Kingman with both experienced leadership and a fresh outlook after my two-year absence."
Byram said he has no current plans to endorse specific potential candidates, but he may consider doing so once petitions are filed Dec. 12. "With 10 people running for the Council, there are some good choices," he said.
Byram stated in his letter that he "took pride in representing Kingman around the state and across the nation, happy to relate what a great community we have." He said he is proudest of his administration's work with former Mohave County Supervisor Carol Anderson to create the Mohave County Water Authority to ensure a long-term water supply for Kingman, which will be instrumental in promoting the city's future growth.
Referring to the defeated bond issues on the Nov. 6 ballot, Byram said it was regrettable that necessary projects would not be completed, and that implementing such projects has been a constant struggle during his current term in office. He said his past two terms as mayor were far more successful in that regard, and he hoped a change in the lineup of the Council would bring more progress.
"Somehow, we have lost the real trust and confidence in city government, and that will make it difficult for several years for anyone to really get things done. It has caused outside developments to put things on hold (until there is) a better political climate within our city," Byram said.
Asked if he could have made changes to restore the trust of the voters, Byram said he wasn't sure. "We stopped the executive sessions, other than about a half dozen. This was one of the criticisms of Monica's administration - they constantly held executive sessions. We have not had secret meetings, regardless of what anybody might say. I think we tried to listen to what people were saying within the community, regardless of what might be said by the critics that appeared here and constantly attacked us at the Call to the Public. But within the community, we had lots of people complimenting us and telling us, 'We know that you're doing what you think is in the best interests (of the city).' So we had far more praise within the community than we had critics coming here."
Byram plans to remain actively involved in the community, although not in an official capacity. He said, "I will continue to be involved in some manner throughout the community. "
He said he hopes to spend his retirement from city service golfing and traveling, especially to visit his new grandson in California.
Byram said, "I sincerely hope the very best for the city of Kingman, and I'll be hoping that a new mayor and a new Council can regain the confidence of our citizens, and they can receive the support that they will need in getting things done."