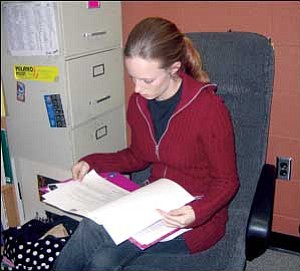 Originally Published: December 10, 2007 11:37 a.m.
Kingman High School senior Katie Ebner is trying to figure out whom to thank for a recommendation that led to her being named to the People to People Student Ambassador Program.
"I have no idea who it was," she said Friday. "The letter came in October asking me to come to (an orientation) meeting later that month in Lake Havasu City. The meeting lasted about 90 minutes and the trip was explained, along with how much it would cost, how beneficial it is to students, and that they earn college credits for it."
Ebner has begun to raise the $7,000 needed for the trip. That sizable sum will cover plane tickets, hotel rooms and meals during the three-week trip in late June or early July.
She paid the first installment of $500 on Friday.
"I've been going to businesses and asking for sponsors, which is a lot harder than it sounds," Ebner said.
About 40 other high school students from Arizona will make the trip. They will visit Germany, the Baltic nations, Czech Republic, Poland and Russia.
"We'll be staying with host families at a few stops, learning about their culture and foods," she said. "The trip promotes understanding and world peace."
There will be many bus rides between cities within countries. Student-ambassadors will meet with host-country students and officials for additional cultural exchange.
The itinerary indicates she will engage other students in bowling at one location, she said.
Ebner plans on a teaching career after high school and will major in elementary education in college. First grade is where she wants to teach.
"When I was in fifth grade at Central Elementary School in San Diego, I'd go outside during first grade recess and help teachers," she said
"I came to adore those kids. I'm going to be a teacher and with the salaries they make there's no way I could afford this trip later, unless I saved for years."
Anyone wishing to help Ebner fund her trip may make a a monetary donation by contacting the family at 753-7661.
People to People is a program President Dwight D. Eisenhower began in 1956 during a White House conference with American leaders.
It gives students a chance to travel and experience first-hand other cultures.