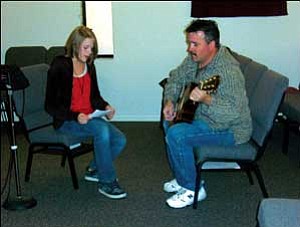 Originally Published: December 12, 2007 3:05 p.m.
Alyssa Dunham earned an opportunity to tour the Midwest and Northeast states with the Christian group The Continentals, but first she is giving Kingman residents a sneak peek into her talents.
Alyssa, a local 13-year-old, was recently accepted into The Young Continentals, a division of the larger evangelical Christian missionary touring group.
Ranging in age from 12 to 15 years old, members of her tour group will showcase singing, dancing and dramatic skills to audiences in 14 states and Washington, D.C. between June 14 and July 14 next year.
Alyssa has been involved in dance since she was 4 years old and in theater since the age of 5. She taught herself to sing in her bedroom while listening to old Broadway tunes, and several professional teachers have since instructed her in the arts. She has appeared in numerous local plays, although usually filling small roles because, she said, "I never audition well." According to Alyssa's mother, Rachel Dunham, those directors who know Alyssa well give her larger roles anyway. "As soon as she gets on stage, she just lights up," she said.
Because the tour is considered a missionary effort, Alyssa must raise the money necessary to fund her trip. In lieu of that fundraising, she spearheaded a Christmas concert to be given Friday at Kingman Christian Church. She gathered local musicians, including singers, a violinist, a flutist and a pianist, and all will provide entertainment geared toward the holiday season.
There will also be poetry and scripture readings.
Although there is no ticket fee for Friday's performance, the group will accept love offerings, and Alyssa hopes to earn part of the fees required for her tour.
Upon her acceptance, the group required Alyssa to pay 10 percent of the costs, and her family worried they would not be able to send her due to financial constraints. "Within 24 hours, that money was supplied by anonymous donors," Dunham said, expressing her gratitude.
Still, she must raise more than $3,000 prior to the trip. After receiving the deposit donation, Alyssa decided to organize this concert, which her mother said has entailed a lot of hard work, mostly by Alyssa herself. Even at just 13 years old, she made all the phone calls to local churches to find a venue for the event and to invite area worshippers, and she handled all of the talent scouting, which includes both adults and children. "She's done very, very well, and I'm very proud of her," Dunham said.
The Christmas concert will be at Kingman Christian Church, 2830 Gordon Drive, Friday from 7 p.m. to 8 p.m.
More like this story