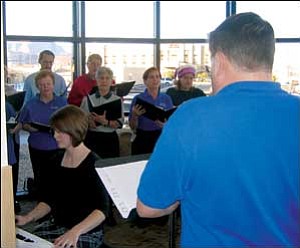 Originally Published: December 13, 2007 2 p.m.
Christmas caroling echoed through the lobby Tuesday of the new catheterization laboratory at Kingman Regional Medical Center during an open house for the public.
The lab on the hospital's north side has ample adjacent parking, easy access and should improve the experiences of patients receiving stents, pacemakers and defibrillators, according to cath lab Supervisor Claire Crum.
"We had our first patient here Nov. 13 and already have exceeded the number of patients cared for last year," she said. "This is going to be great. In one room (in the old cath lab), we had staff spread out hours on end. With two rooms now, we can work simultaneously so staff is not here as long as in the past, and it will be far more efficient."
Toby Orr was the contractor for the project that took about 10 months from start to completion. Mike Morfeld of Morfeld Ray Architects in Tempe also attended the dedication. The cath lab encompasses 12,600 square feet, compared to about 2,500 square feet in the original lab. Construction of the new wing cost roughly $3.6 million, with the total price, including equipment, put at $8.5 million by Craig Owens, chief operating officer.
Features include two procedure rooms with control rooms between them, two echocardiogram rooms (where sonograms of the heart are done), 12 beds in a before- and after-care holding area with curtains for patient privacy in each cubicle, nurse's station in the holding area, conference room (where training can be held), family consultation room and employee break room. There is a shelled room, which can be later equipped to serve as a third procedure room.
"We do X-rays and have other state-of-the-art equipment for diagnostic and interventional procedures for cardiac and peripheral patients," Crum said.
"Nothing has changed from what we did before. We just have more capabilities that will lead to increased efficiency."
The cath lab also has an adjacent hallway for faster access to patients arriving by helicopter.
The original cath lab inside the main hospital will be converted into an emergency room treatment area, Crum said.