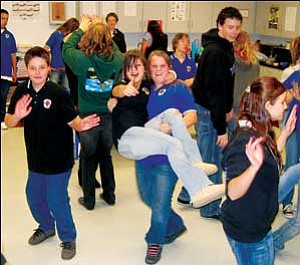 Originally Published: December 20, 2007 1:19 p.m.
Kingman Academy of Learning High School faculty members moved in and out of Kim Canto's classroom Tuesday to sample 13 bowls of salsa prepared for the school's Third Annual Salsa Contest.
"I love the fruit mixture salsa," social studies and art teacher Michael Nelson said. "A couple of them are sweet and very surprising."
Principal's secretary Nancy Adams said students made a good variety of salsa this year.
"Four of them are pretty hot," drama and English teacher Laura Nelson said. "The rest are tomatoey or fruity and make you very thirsty."
Judges considered texture, color and fragrance of each dish.
Tomatoes, hot peppers and onions are main ingredients in salsa. Lime juice, vinegar and sugar are often added to the blend, Canto said.
Canto's third-hour math class was pitted against Maria Sharkey's third-hour Spanish class in the competition for school bragging rights. Students in the classes divided up into teams of 3-4 and prepared their salsa Monday.
Some of Canto's students made an all-fruit salsa comprised of kiwi, jicama and oranges.
Some of Sharkey's students made a tropical salsa from mangos and cilantro.
"Some of the kids brought in family recipes, while others found recipes on the Internet," Canto said. "They chose a recipe for each team.
"Preparation took 40 minutes to more than an hour. Most of the salsa was not cooked, except for a Cajun dish."
Students from Canto's class learned cooking skills, while tying in math through understanding fractions, whole numbers and ounces from recipes.
Spanish background and culture was the tie-in for Sharkey's students.
Sharkey led students in a salsa dance called Chu Chu Wa in which participants moved their arms up and down with thumbs pointed upward and heads tossed back.
Several students were questioned about what makes for a good salsa.
"You put the ingredients together as a mild sauce, so it tastes good," said senior Alex Francois, who prepared salsa for the first time.
Junior Kyle Walsh was another first-time salsa maker.
"The key is to add plenty of salt and lots of cilantro," Walsh said.
Freshman Cherissa Curtis had made salsa in the past.
"You have to put soul and love into it," Curtis said. "You also must not make it watery."
The contest was the second time to prepare salsa for junior Matt Gebbia.
"You've got to taste and see if it's hot or not," Gebbia said. "If it's extremely hot, don't give it to anybody."
The top contest finishers were - First place: Kyle Walsh, Cherissa Curtis, Janece Glennon. Second place: Taylor Hastings, Kayla Julien, Dereck Neilson. Third place: Corey Waldschmidt (solo).