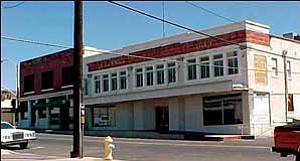 Originally Published: December 27, 2007 11:32 a.m.
The City Development Services Department is now accepting requests for Community Development Block Grants, funds that may be used for infrastructure, facility and housing projects.
According to Bill Shilling, grants administrator for the city, the Arizona Department of Housing is expected to award Kingman approximately $746,000 in federal CDBG funds next year, to be taken from the HUD Regional Account. The city also may apply for an additional $300,000 in State Special Projects account funds.
The city will conduct the first public hearing regarding the grant program Jan. 10, and the deadline to submit requests is Jan. 28.
Funds received from the CDBG program must be used to benefit low- or moderately low-income populations or to address community blight areas or immediate health and safety hazards. Between Jan. 10 and Jan. 28, Development Services will provide technical assistance to individuals seeking information about how to apply for such moneys.
Types of projects
Possible uses for CDBG funds include public infrastructure improvement, community facility remodeling, housing rehabilitation, public service upgrades and economic development incentives.
In the past, the city has utilized such funds to rehabilitate the Central Commercial building, located on Fourth Street, between Andy Devine Avenue and Beale Street.
Shilling said the city participated in that project to eliminate health and safety hazards and an overall blight on the area.
When the city first began drawing up a proposal for the project, requested by building owners Joe and Carol Ott, some downtown denizens were unhappy with the "blight" designation, Shilling said.
"The City Council passed a resolution that identified a specific area - our Historic Overlay District - as a slum and blight."
"Back when Council passed this resolution, the downtown community wasn't pleased. They of course didn't feel like they lived in or near a 'slum.' Once we explained it's a designation that will only help qualify the area for grant funds, they seemed to understand and eventually accepted the concept," Shilling said.
'Slum and blight'
The Central Commercial building was a perfect candidate for such rehabilitation, according to Shilling. "We considered the terrible, unsafe conditions that existed there - falling parapet wall, falling awnings over the sidewalk, broken windows, pigeon infestation," he said. "All these are considered health and safety hazards in a specific area or building. In short, this is considered a 'slum and blight area' by the state's standards."
Development Services carefully coordinated the work with consideration of historical preservation standards, along with general health and safety protocol, as the building is eligible for listing in the National Register of Historic Places.
The Otts made their application to the city for $500,000 for exterior construction costs in 2005, and they agreed to contribute $285,000 in matching funds for interior work. City staff and the Prescott architect hired for the project completed the planning and design between February and October 2006, and construction occurred between November 2006 and September this year.
Reactions to project
Community response to the exterior renovations has been positive. "The outside looks very beautiful," Robin Poor, owner of The Spinster at 116 N. Fourth St., said. "Everyone that comes through is so excited. People come in from all over town and think it looks very neat."
Some interior construction is still ongoing and will eventually open the building to the surrounding merchants, creating an indoor mall. Brenda Pratt, store manager for Arizona Desert Soaps, located at 410 E. Beale St., said the area shop owners are excited about the project. "We're waiting anxiously for the inside to be open, because it's going to really bring in a lot of revenue and foot traffic for a lot of the stores. It's going to be an awesome mall," she said.
Angela Patterson, owner of Beale Street Brews at 418 E. Beale St., hopes the renovation will encourage future retail shops to move into the building. "I can't wait to be a part of it," she said. "If you're looking to do retail, I think this is the time to do it. I don't think anybody could go wrong opening up their retail here."
Housing rehab
Besides work on public facilities and aging buildings, CDBG funds also may be used to rehabilitate private homes owned by low- to moderately-low-income families. One such example is the repairs completed by the city to a Hualapai Mountain Road area home owned by resident Christine Howell.
Howell's home needed major repairs - she and her 16-year-old daughter had been without heat for more than two years, she had repeated plumbing issues in the bathroom and her rooftop swamp cooler leaked.
She first approached the United States Department of Agriculture's rural development program, which offers rural housing repair and rehabilitation loans and grants, through which Howell had purchased the house. Howell said she was told to apply to the city's CDBG program instead - a program she had never heard of.
'Above and
beyond'
Howell made her application to the city in August, which she said was a very simple process. She said she was "totally amazed" at the commitment and hard work put forth by Shilling and the city crew.
"I thought just repairing the roof was all they were going to do, but they went above and beyond and did many more things that I needed done. It was a total blessing. I couldn't ever thank them enough."
Included in Howell's housing rehab project were: a new roof, a new garage door, new windows, a new heating and air conditioning unit, exterior painting, water damage repairs to ceilings, bathroom plumbing, weather stripping and other improvements.
Howell said she was so comfortable with the people working on her house that she would leave her doors unlocked when she left to allow them to come and go as needed. "It was wonderful," she said. "They were all very nice people. Any questions I had, any problems I had, they were right on top of it fixing it or doing what they could."
Rehab lien
Once a housing rehab project is complete, the city places a lien on the homeowner's property to discourage those who receive such services from selling the property within a short time. Howell said she understood she was not supposed to sell her home for at least five years, but that would not be a problem.
"That was all I needed - I didn't have a heater, and my roof was leaking. I plan on being there forever now!"
Howell encouraged others in need to seek out the program's services. "It's a wonderful program," she said. "It very much helped us out. I could have never done it on my own. I can't say enough about it, how pleased I am. They made my house safe."
The city's public hearing concerning the upcoming application process for CDBG funds will be at 5:30 p.m. Jan. 10 in Council Chambers, 310 N. Fourth St.