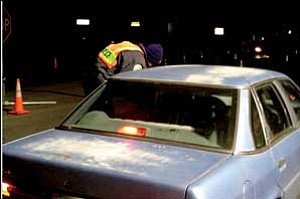 Originally Published: December 28, 2007 1:23 p.m.
A combination of sobriety checkpoints and saturation patrols led to more driving under the influence arrests during the weekend before Christmas.
The Mohave County Sheriff's Office teamed up with the Kingman Police Department and the Arizona Department of Public Safety to conduct sobriety checkpoints on Dec. 19 and 21. The first was located north of Golden Shores on Count Route 1.
"During that operation, 187 motorists were contacted and one extreme DUI arrest was made," MCSO Sgt. Don Bischoff said in a news release.
Bischoff, who serves as the task force coordinator, also assisted with the second sobriety checkpoint on Dec. 21 in the 2300 block of Northern Avenue in Kingman.
"During that operation, 783 motorists were contacted and one DUI arrest was made," Bischoff said.
Since the holiday DUI campaign kicked off, the MCSO has only investigated one non-injury crash countywide that was alcohol-related. The campaign began on Thanksgiving and will continue through New Year's Day.
Statewide, 2,169 officers have made 2,051 DUI arrests during the more than 26,500 traffic stops.
"Driving with a BAC (blood alcohol content) of .08 (percent) or higher is illegal in every state and the District of Columbia," Bischoff said.
"Yet too many people still ignore the law."