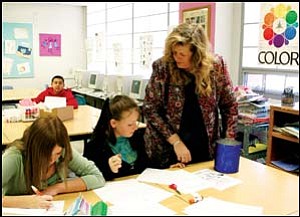 Originally Published: February 23, 2007 7 p.m.
KINGMAN - Ten women have been chosen this year to be honored at the 23rd annual Women Making History awards ceremony on March 4 at the Mohave Museum of History and Arts.
Women Making History is a part of National Women's History month, focusing on the "rich and inspiring heritage of women's contributions in the United States."
These 10 women have been chosen to be honored for their contribution to the community in areas such as the arts, businesses, education, homemaking, pioneering, public service and volunteering.
This year's winners are Teresa Dolan for education, Kathe Cook Owen in the area of professions, Louise Benson for public service, Cathy Duran for business, Diana Ruth Lingenfelter for religion, Lorraine McVicar for homemaking, Barbara Ely Patterson for volunteerism, Ruthie Bishop for pioneering and Carol Louise Dykman for being a woman of distinction.
Teresa Dolan
Teresa Dolan has taught arts and crafts, social studies and special education, as well as gifted education at Kingman Junior High for 26 years. She continues to touch the lives of Kingman's youth as the arts and crafts teacher at White Cliffs Middle School.
"In her many years of teaching, she has motivated her students and developed their minds far beyond their expectations," her nomination form said.
"Students leave her class feeling they have created something special. Whether they are producing a weekly craft project, drawing a picture or developing a detailed social studies lesson, those students give 110 percent to Ms. Dolan. She brings a sense of humor and natural rapport to her classrooms resulting in few behavioral problems and a relaxed, positive learning atmosphere."
Through the years, Dolan has garnered respect from her students. She has been nominated numerous times by former students to the Who's Who Among American Teachers.
After graduating college, Dolan did not believe it was time to stop her education. She continued on to gain training in special education and art education and is now working toward receiving master teacher leader status. She has served as a member of local art guilds, presented at conferences and participated in a multitude of Kingman Cancer Fairs.
"Terry's talent and creativity are exceptional and she has shared her gift with numerous Kingmanites. Her artistic presence in the community has given the citizens of Kingman an opportunity to grow and expand their knowledge of the world of fine arts. She has made not only he schools, but the community a better place," her nomination said.
Kathe Cook Owen
Since graduating from Kingman High School and earning a Bachelor of Arts degree in Education, Kathe Cook Owen has taught for 24 years.
According to her nomination form, she spent the majority of those years in preschool and kindergarten classes. However, she has also taught in Special Education and third grade classes.
Owen "has been instrumental in molding the minds and spirits of over 500 little ones in the Kingman community. Working with young children takes a great deal of patience and responsibility. She inspires them to be creative and challenges them to do their best. She instills in them a love for reading and learning and builds in them a foundation for becoming good, productive citizens. The world will be a better place for having teachers like Mrs. Owen who are committed to their profession," her nomination form reads.
During her tenure as an educator, Owen was nominated for the Disney World Teacher Awards, which, according to her nomination, focus on honoring teachers "whose commitment exemplifies creativity in teaching and who inspire a joy of learning in their students."
Since beginning her career, Owen has continued her education to improve her skills and learn new ideas.
Owen is currently a Title One Instructor for Kingman Academy of Learning Primary School, which means she is part of a program which emphasizes assisting children in preschool through second grade to become more proficient in reading and math.
"I have always loved reading, and helping a child to learn to read is one of the most enjoyable things I've ever done," Owen said.
Owen has been selected to receive the Women Making History in the category of Professions.
Karin Kopecky
"God gives gifts and talents to one and all. Karin (Kopecky) has received a wonderful talent of music - we admire her gift - but this nomination is not only that, but recognition of the many ways Karin has learned, practiced and shares with a willing outpouring of her musical talents, using her talents to a magnificent extent," Kopecky's nomination said.
Kopecky serves as the adult choir, bell choir and chime choir director for her church, which are positions she has held for a number of years. She gives of her time several hours a week for weekly practices, as well as for extra programs for Christmas and other seasonal performances.
In addition, she plays the flute for solos and within the choirs, and sings.
She also takes groups to perform at community functions including Museum programs, Mohave Community College events, Hospice dinners and Mohave County Fairs.
Kopecky graduated from Northwestern University with a degree in education and has taught second grade at Cerbat Elementary School since the school opened.
Music has been a family tradition for Kopecky. Her mother was the choir director and played for her church when Kopecky was growing up. The talent has been passed on as both of Kopecky's children play instruments.
Kopecky has been selected to receive a Women Making History award for her contributions to the arts through her dedication to music.
Louise Benson
Louise Benson is the first member of the Hualapai Indian Tribe to receive the honor of being chosen for a Women Making History award.
Benson has served on the tribal government council starting in 1979. From 1979 to 1981, she served as vice-chairman; was a council member from 1981 to 1982; was vice-chairman again from 1992 to 1993; was the chairwoman from 2000 to 2004; and has served as a council member since 2006 (her term expires in 2010).
According to her nomination form, Benson has helped move the Hualapai tribe into the modern world by bringing new master-planning, a clinic and a youth center to the area. She has also brought new employment opportunities with the development of Grand Canyon West Tourism.
Benson has also been involved in many joint local, state and federal meetings to improve the Kingman area's health and economic well-being. She is a member of the Down Winder's group, which helps promote victim's rights for those affected by nuclear testing done in later half of the 20th century at the Nevada Test Site.
Benson has performed in Kingman parades by doing traditional dancing and has promoted health and education issues.
Cathy Duran
After losing her husband in 1969 with three small children to care for, Cathy Duran went back to beauty school. This skill carried her through some of her darkest times and helped her to care for her children.
Duran remarried in 1974 and had two more children. While her husband, Ruben Dorotero, worked in the Duval Mine as a driller, Duran worked for other people such as Irma's Beauty Salon behind Uptown Drug and Diane's Hair Gallery. When the Duval Mine shut down in 1982, Ruben supplemented the income by working odd jobs.
Despite the hard times facing her family, Duran took a leap of faith.
"Cathy was terrified, but with the steady, loving support of her husband Ruben and her entire family, she spread her wings and soared. She opened her own salon, Specially Yours, on Tucker Avenue in 1985," her nomination form said.
When she first opened her shop, Duran started with used furniture and equipment and had only four chairs. The salon took off. Before long, Duran was able to design a new layout for her shop and erected her own building on Louise Avenue 18 years ago.
In the 22 years since opening her own salon, Duran has helped new stylists into the business and helped them to build their own clientele.
"Cathy has been such an inspiration to many of her stylists that several have opened up their own salons," her nomination said.
Duran has since joined Soroptimists, the Chamber of Commerce and the Beta Sigma Fi and she was president of the local Catholic ladies club, The Belles of St. Mary's, and participated in the first and only downtown bed race in 1988.
Duran is receiving the Women Making History award for her contribution to the field of business.
****
The profiles of five more "Women Making History" will appear in Sunday's Kingman Daily Miner.