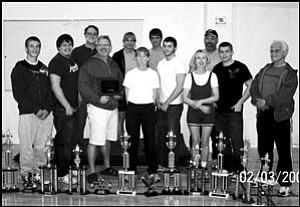 Originally Published: February 23, 2007 9:53 a.m.
KINGMAN - Twelve competitors from the Heavy Metal Gym in Kingman attended the NASA Arizona State Powerlifting Competition in Mesa on Feb. 3.
Lifting in different divisions based on age and weight class, all 13 lifters placed first. The team ranges in age from 17 to 72.
Jerry Homer, the gym's owner, became the American record holder for his curl (138 pounds), bench press (330) and deadlift (330) weights.
Charley Jones (132.2 curl, 297.6 bench and 352.7 deadlift), Susan Collins (90 curl, 154 bench, 319.85 deadlift), Alex Lemelin (115 curl, 205 bench, 385 deadlift), and Marco Marquez (132 curl, 264 bench, 429 deadlift) set state records for all three lifts.
Others setting state records were Derek Murdock with his bench press (220) and deadlift (352), Randy Cheatum on his deadlift (428) and Royce Lauck with his curl (132).
Kingman's Johnny Salem (137.50 curl, 314 bench, 403 deadlift), Colby Wilson (143 curl, 232 bench, 363 deadlift), Vickie Brown (65 curl, 88 bench, 204 deadlift) and Marg Grimes (59 curl, 85 bench, 209 deadlift) won their respective divisions.
The Heavy Metal Gym welcomes any newcomers interested in learning and training for future competitions. The team's next event is in Las Vegas in June.