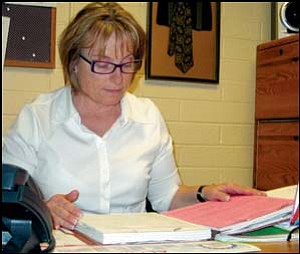 Originally Published: February 23, 2007 7 p.m.
KINGMAN - Children requiring instruction or services outside the realm of regular education have Beth Ferry looking out for their needs if they attend a school in the Kingman Unified School District.
Ferry is director of exceptional student services, the position she has held since July 2005.
The district has about 8,000 students, with 1,140 of them classified as special education. They are considered either low-incidence or high-incidence students.
"Our low-incidence students are fewer in number, but they have more severe disabilities," Ferry said. "Some have orthopedic impairment, cerebral palsy, retardation, autism and are visual or hearing impaired.
"Numbers are higher among high-incidence students. They have learning disabilities that may include reading comprehension, math calculation and written expression problems."
Students with more severe disabilities often enter district programs in grades K-5. Ferry said there presently are 10 autism-afflicted students there who would be unable to succeed in a regular school program, plus eight students with emotional disabilities.
Special education children constitute about 14 percent of the total student population in the KUSD. The national average is about 13 percent, Ferry said.
Each child receiving special education services must have an Individual Education Plan prepared that complies with federal guidelines set forth in the Individual with Disabilities Education Act of 2004. An IEP team having at least four members draws up a plan.
"The first thing put on the table for discussion is the child's level of functioning," Ferry said.
"We then talk in terms of how the child is doing compared with children of the same age in the general curriculum," Ferry said.
"We then look at and set goals and how to meet them in the least restrictive environment. That's usually in a general education curriculum with some adaptations.
"If a child needs speech or occupational therapy or is visually or hearing impaired, we incorporated how to address that into the plan."
A quarterly review is done of how goals and objectives are being met.
An IEP is good for one year. In addition to parents of the child, the team preparing one usually includes a teacher from the general education curriculum, special education teacher to work with that student, local education agency representative (building principal or vice principal), school psychologist if there is any data to be interpreted, and anyone else having information relative to the child's physical, mental or emotional state.
State law requires an IEP to be kept for five years. However, some billings are done to Medicaid and that agency mandates keeping an expired IEP on file for seven years, Ferry said.
"My role in all this is to look at those 1,140 students and make sure we're providing the education they need," Ferry said.
"Regardless of the severity of disability, every student is guaranteed the right to a free and appropriate public education. There's no reason not to educate even if it requires intensive support, so that too can be challenging."