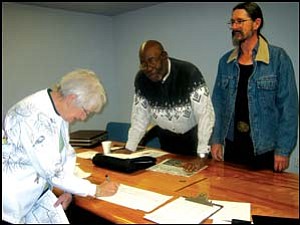 Originally Published: January 10, 2007 2:37 p.m.
GOLDEN VALLEY - Of the dozen Golden Valley residents who attended the first public meeting of the Incorporate Golden Valley committee, the most commonly asked questions and comments centered on the desire to allow residents to take charge of their own destiny.
Bill Clegg wondered why there appears to be so much interest in incorporation and who is involved.
"This is a hard fight," IGC Chairman Henry Peairs Jr. said. "Most of us are working people and on limited incomes. This committee is getting support from a lot of groups here in the valley and we really appreciate their help. We don't have any big money backers and I don't believe we really need them. We do believe we'll succeed this time."
That will happen as the community becomes more actively involved in taking charge of its own future and deciding what changes to allow and how fast, he said.
"This is our first public meeting and one of the things we want to do is see if you want incorporation. We're trying to get the community more involved this time," Peairs said. "Without you, we might easily become part of Rhodes City or another developer's city. There are five major developers on the waiting list to build what you might as well call their own cities with thousands of homes out here in our valley. If we don't want Golden Valley to become a large city, we have to take action now."
Randy Cone, the IGV petitions sub-committee chairman, said there is a lot of interest in Golden Valley now and that becoming a city would give residents a much greater voice in deciding the valley's future.
"We could decide for ourselves what we want our valley to be, instead of remaining silent and allowing the county Board of Supervisors to make all of the decisions that effect all of us," he said. "Establishing a town government would allow Golden Valley to create its own destiny."
Corwin Page asked why the IGV's incorporation effort stops at Adobe Road on the eastern edge of the proposed city.
Peairs said land to the east of Adobe falls into the six-mile zone surrounding Kingman's city limits, and that Kingman's city council has denied the last three incorporation efforts that included portions of that land. Steering clear of that zone eliminates one major hurdle in the move toward incorporation, he said.
Alton Smithart asked if Kingman legally has that great a sphere of influence on incorporation.
Patricia Randolph, IGV secretary, said state law requires areas seeking to establish their own town government to obtain approval of nearby existing cities before proceeding with incorporation, and referred Smithart to the League of Arizona Cities and Towns for a more complete understanding on the issue.
Luca Zanna, who moved to Golden Valley less than a year ago, asked how many signatures will be needed on the petitions.
Gordon Hoover, IGV treasurer, said the area has about 2,500 registered voters and the petitions will require two-thirds - about 1,650 signatures - to accomplish incorporation without taking the issue to a ballot, or 10 percent - only about 250 - to take it to a vote of all of the registered voters in the proposed incorporation area.
Page also asked if there will be enough water for Golden Valley residents, if all of the developments become reality.
Peairs said the Arizona Department of Water Resources is in charge of safeguarding and apportioning the water supply in the state, and that the ADWR has hesitated to grant permission too quickly to developers looking to build tens of thousands of homes in Golden Valley and the surrounding area.
"At last year's public meeting of the Valley Pioneers Water Co. in February, we learned Golden Valley lost the opportunity years ago to control the water here," he said.
Dennis Emery, IGV member at large, said the copper mine east of Golden Valley is the largest in the nation and it is guaranteed as much as 12,000 acre feet of water a year, more than the rest of the valley uses as a whole. Right now, the mine is using about 3,000 acre feet.
"And there's nothing we can do about it," he said.
Hoover said the Army Corps of Engineers is involved now in a yearlong study to determine how much water is in the aquifer that serves Golden Valley and the surrounding area.