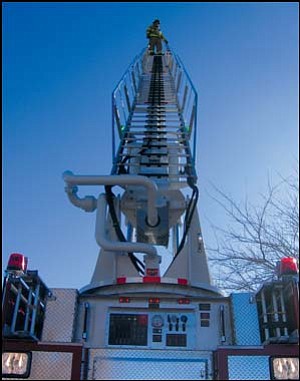 Originally Published: January 17, 2007 7 p.m.
KINGMAN - The Hualapai Valley Fire District received their new 2006 Spartan/Advantage 75-foot ladder truck on Monday.
The $390,000 custom-built truck was ordered in 2006, but planning for it began in 2005, according to Hualapai Valley Fire Chief Wayne L. Eder.
"We're pretty proud about it," Eder said. "It's a big deal to us."
The truck replaced a 1990 Pierce 50-foot ladder truck that had experienced several catastrophic equipment failures in 2005.
"The old one was falling apart," Eder said. "We worked long and hard with the board to get this one."
Funding for the truck came from proceeds from the sale of the old ladder truck combined with the department's operating budget. Eder said the new ladder was expected to be in use for the next 20 years.
The upgraded and longer ladder truck was determined to be necessary due to the expansions in the Kingman Industrial Park and the additions of three-story homes in the district, according to Eder.
The truck features a fully enclosed cab and a 1,500-gallon-per-minute fire pump. It has a firefighting foam system capable of flowing 650 gallons per minute of foam, which is necessary for fires at the Industrial Park, Eder said.
The customized truck features several other variations to the standard ladder truck, including a chassis matching another truck at the district.
"I wanted the ladder wider and the handrails taller for the safety of the firefighters," Eder said.
It also features a custom hook to help with water extrications.
Eder said the truck comes with equipment, but it won't all arrive until the second week in February at the latest.
It will take approximately a month to train personnel in its operation before it is placed in full service.
The truck will be assigned to HVFD Fire Station No. 2 and will be run by a two-man crew. The addition brings the total number of vehicles to 10 in the district, including trucks, engines and the water tender.
According to Eder, Valle Vista Fire Department has three engines, which will be added to the total number of vehicles in the merged district.