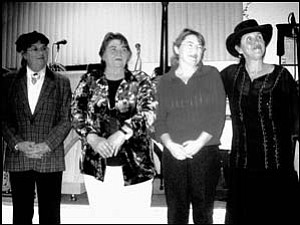 Originally Published: January 18, 2007 10:53 a.m.
DOLAN SPRINGS - Norty Turchen is stepping down as his term as Dolan Springs Chamber of Commerce president draws to a close, but don't change the "T" on the hand towels just yet. His wife, Judy Turchen, is picking up where Norty leaves off.
Norty Turchen officially handed the chamber reins to Judy Turchen, on Jan. 9 at the annual officer installation banquet at VFW Post 9833 in Dolan Springs.
Post Commander Yancey Stout welcomed the chamber to the VFW and congratulated both the incoming and outgoing presidents.
Then, Judy Turchen had the honor of presenting the past president with an appreciation plaque on behalf of the chamber members.
"This plaque goes to Norty as the 'first man' of the chamber," Judy Turchen joked in reference to the U.S. presidential wife as "first lady."
The plaque was inscribed with names of the chamber officers and quoted Norty Turchen's favorite saying, "You gotta have a sense of humor."
"It's been my honor to serve the community for the past two years as president of the Chamber of Commerce," Norty Turchen said.
"This community is and has been a wonderful community, and the chamber is and has been a wonderful chamber, but they've changed drastically for the better in the six months since Carol Ann has been involved. She's so enthusiastic and magnetic. This town had never been so lit up for the holidays as it was this year, and she gets credit for that.
"It's true that there is no "I" in the word team," he said. "It's all been teamwork and Carol Ann is a wonderful addition to our team."
Carol Ann, who - like Cher or Madonna - does not use a last name, is the new chamber vice president, Sally Curry is the new treasurer and Cheryl Buck is the new secretary.
Carol Ann said the Hualapai Nation has invited the entire community of Dolan Springs to enjoy at day at Grand Canyon West Rim.
"It's all free of charge and all 3,000 Dolan Springs residents are invited," she said. "Just call me to sign up for tickets. We'll be traveling by bus and we'll probably leave around 8 in the morning on Feb. 17. That's a Saturday."
Those interested in the Hualapai Nation trip to the Grand Canyon West Rim on Feb. 17 should call 767-9419 to make arrangements.
Tim Sanders won the grand prize in the raffle drawing at the Jan. 9 installation banquet. Other prizes included two tickets to the Grand Canyon West Rim Skywalk, worth about $50; two glider tour tickets, worth about $200; a gift certificate from Tacky Stuf 4 Horses; a compact heater fan; six T-shirts from Adrenalin ATV Tours, worth about $20 each; and two chamber T-shirts, worth $10 each.
The top 10 contributors to the chamber and its functions in 2006 were: Mardian/White Hills; The Land Office; VFW; American Legion and AMVETS; Bill Long/St. Vincent DePaul; Lamb's Diner; Sue B. and Marie; Diane and Roger Hansen; the Community Council; Town Crafters and Coffee Break Corner.
The chamber's resolution for 2007 is to increase positive communication among all community members.