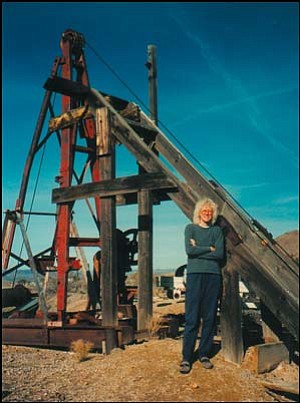 Originally Published: January 22, 2007 7 p.m.
KINGMAN - Leslie Kay lived in different places and worked for a while at them during the years 1976-80, a time in which she says she had "itchy feet."
She was 19 when she began hitchhiking her way around the United States, beginning from Santa Cruz, Calif.
"I was a real seeker and quite restless," Kay said. "I was a product of the times, perhaps due to the literature I read.
"Hitchhiking seemed like a romantic and adventurous thing to do. I also was running away from an unhappy childhood."
Kay was threatened a few times by male drivers picking her up. She also encountered some protective people along the roughly 20,000-mile journey she made. A portion of it took her 1,500 miles through Canada on a bicycle and into Mexico as well.
Kay, who was born in Orange, Calif., and has gotten four books published, stayed anywhere from 3-6 months at different locations. She earned money doing such things as picking apples in orchards in Washington state, as a cook's helper in a restaurant at the Grand Canyon, selling electronics door-to-door to businesses in Phoenix, and working at an institution for developmentally disabled adults in Massachusetts.
She lived on Hancock Street in the Beacon Hill section of Boston for six months and got to learn about Boston Commons and the history of Massachusetts, the state she most enjoyed. She also met Sikhs in the Bay State and got to watch whirling dervish dances done by Sufis.
One experience Kay will not forget came near Williams after being picked up by a driver at the Grand Canyon.
"The guy attacked me and told me to cooperate, but I fought him for about two hours until I bit his ear and he gave up," she said. "He then became tame and apologetic, but I was glad to get away from him."
Friend and relatives had warned Kay before she began hitchhiking in 1976. They told her she was crazy and would wind up murdered, but she was not deterred. Her experiences ran the gamut of bad to good.
"I was outside Burbank (Calif.) about 2 a.m. one day when a guy picked me up on the freeway," Kay said.
"He said, 'Don't you realize this is the area where the Hillside Strangler picked up his victims?'
"At that point, I though he was going to do me in. But he took me right to the front door of a friend's home in Anaheim," Kay said.
The adventure was a "spiritual journey" for Kay. Her spirit took a blow while visiting the Rainbow Festival in Roseville, Ore.
She said her backpack was stolen there, leaving her with just $4 cash and the clothes on her back. She had to panhandle for a time thereafter, but eventually made it into neighboring Washington, where she picked apples.
Kay said she avoided the Deep South due to its humidity, but passed through every other state during her 4-year-long journey.
Kay is the daughter of Mel Greenfield. He once owned Grasshopper Junction and later bought the Chloride General Store, where Kay worked for a time.
Kay and her husband Eldon married 21 years ago. They have two daughters, Rebecca, 15, and Jennifer, 13, that she home schools.
Studying psychology and theology occupies her spare time. Kay, who wrote monthly devotional columns with humor for the Adventist Review for eight years, hopes to become a therapist.
****
Neighbors is a feature that appears Mondays in the Kingman Daily Miner. If you have an interesting story you'd like to share, contact Terry Organ at 753-6397 ext. 225.