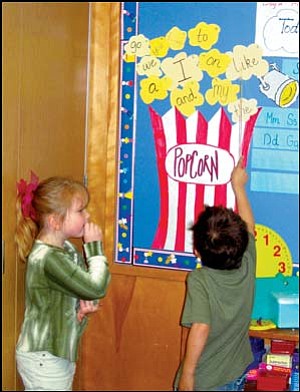 Originally Published: January 23, 2007 7 p.m.
KINGMAN - The Kingman Unified School District will have little to do once full-day kindergarten becomes mandated statewide.
That's because the district already has it in effect, with every elementary school having anywhere from two to five all-day kindergarten classes.
"We've already allowed for spacing considerations connected with it," Assistant Superintendent Betsy Parker said. "Three or four years ago, we went to free all-day kindergarten and made the space available because we are growing and recognized it would be necessary."
Last week, an Associated Press story stated that Gov. Janet Napolitano's proposed budget includes $80 million in new spending this year and an identical amount next year to complete her five-year "rollout" plan for all-day kindergarten. Schools are to be funded at 85 percent of the full-day cost this fiscal year, Parker said.
While kindergarten is optional, Parker said she is not aware of a single child in the KUSD not taking advantage of the all-day program now. There are no children attending half-day sessions.
"We used to offer it on a pay basis," she said. "You could either pay for all-day or qualify your child for it on the basis of need."
As space for kindergarten was planned several years ago, implementation of the $80 million bond issue approved by voters in November for three new schools and upgrades to existing schools will have no bearing on it, she said.
More like this story