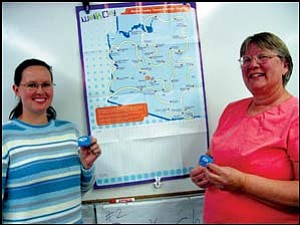 Originally Published: January 26, 2007 7 p.m.
KINGMAN - Students in two fifth-grade classes at Cerbat Elementary School will have pedometers attached to them Feb. 1 when the Blue Cross Blue Shield "Walk On" program begins with "Walk On Day" as declared by Gov. Janet Napolitano.
"It's an interactive and educational program that we put together and it's to help combat childhood obesity, and to help motivate children across Arizona to start incorporating exercise into their daily routine," BCBSAZ spokeswoman Renee Hunt stated in a news release.
More than 33,000 fifth-graders statewide are to participate in the month-long program. Each will wear a pedometer while at school, and the goal is to walk 10,000 steps, the equivalent of five miles.
Students in the classes of Gail Fruhling and Lisa Mylius will participate at Cerbat. Cerbat is one of eight schools in Mohave County involved in the program.
Fruhling and Mylius learned about the program from an e-mail forwarded to them by Principal Dawn McGill.
"Fifth grade classes had just finished a health unit and we felt this would be a good culmination to it," Fruhling said.
Fruhling has 20 students in her class, Mylius 19. BCBSAZ sent 47 pedometers for counting steps to the school.
Mylius said she would also wear a pedometer during the program period.
She was asked if the short-term program could make a significant difference on childhood obesity.
"It will certainly make our students more aware of it," Mylius said.
Fifth-graders begin a daily recess by walking or jogging around a quarter-mile track at the school, so they are used to walking, Fruhling said.
The teachers have a map of Arizona supplied by BCBSAZ.
Fruhling said she and Mylius would clock the miles from a starting point in Phoenix to see how far around the state would be walked by all children engaged in the program.
The school with the highest percentage of students meeting or exceeding the 10,000-step goal for February will receive a $2,500 grant from the insurer.
If Cerbat gets the grant, it would be applied toward the purchase of playground equipment for upper grade levels at the school, Mylius said.